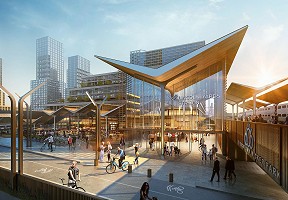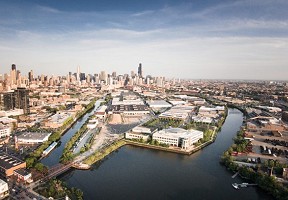 Lincoln Yards protesters held a news conference last Thursday outside of the Harold Washington Library to "demand a return of $1.3 billion in ill-gotten Lincoln Yards TIF funds." In light of the recent reports that the Emanuel Administration and some members of City Council were fully aware that the proposed Lincoln Yards Mega TIF did not meet the state's requirements for creating a TIF district, members of the coalition opposing the Lincoln Yards TIF are calling on the Lightfoot Administration to immediately open an investigation into the matter and to freeze all financial activity related to the Lincoln Yards TIF, according to members of the Grassroots Collaborative, Raise Your Hand for Illinois Public Education, and Black Workers Matter.
"We are outraged by these new revelations of collusion to push through the Lincoln Yards deal under false pretenses," says Abbie Illenberger, deputy director of the Grassroots Collaborative. "On the same day that Chicagoans are expecting Mayor Lightfoot to ask us to make more sacrifices, to prepare for more tax increases on working people, and to endure more cuts to vital programs and services, we call on the Lightfoot Administration and City Council to stop this massive giveaway of $1.3 billion taxpayer dollars to developer Sterling Bay.  Chicago's working families cannot continue to have their tax dollars taken away from our own neighborhoods to build new luxury neighborhoods for the very wealthy."
Grassroots Collaborative and Raise Your Hand for Illinois Public Education filed a lawsuit against the City in April, arguing that the City failed to satisfy the state's statutory requirements of blight and the "but-for" test. The lawsuit also challenges the City's racially and ethnically discriminatory administration of the TIF system which has disproportionately benefited areas in majority-White census tracts to the detriment of areas in majority-African American and majority-Hispanic census tracts.