By: Ashmar Mandou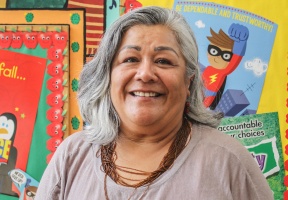 During Hispanic Heritage Month we honor the generations of Latinx individuals who continue to enrich the cultural fabric of America and the world. This month's celebration allows us to reflect on the strides Latinx have made and to focus on the ongoing struggle for equality and justice. At a time when the Latinx community severe attacks, we need to adhere to the immutable words of living legend, Dolores Huerta 'We can't let people drive wedges between us…because there's only one human race.' On this Hispanic Heritage Month, let's celebrate the rich diversity and culture of the Latinx community and move forward to reject the hateful rhetoric of those who seek to marginalize and divide us. The heritage we celebrate today is long, it is storied, and it will continue to be a thread of hope, optimism, and perseverance in the narrative of America. This month we will shed light on the irrefutable contributions of Latinx members including this week's highlight of Josefa Ortiz de Dominguez Elementary School Principal Angelica Herrera-Vest as well as Chief Engagement Officer for Mayor Lori E. Lightfoot, Juan Carlos Linares, Manager for The Peace Exchange Henry Cervantes, and ComEd CEO Joe Dominguez for upcoming editions. Be inspired.
Principal Angelica Herrera-Vest
Principal Angelica Herrera-Vest is entering her 19th year as the principal of Josefa Ortiz de Dominguez Elementary School (Ortiz) and her 21st year with the school overall. "I feel inspired every day, every year teaching our younger generation. I consider them to be like my own children. There is so much love that goes into creating this sense of community between our school and our families," said Herrera-Vest, who fell in love with the art of teaching from an early age. "I am a native of El Paso, Texas and I remember spending my time reading to the ESL students and I remember the joy I felt from that experience. I just knew I wanted to go into the field of education."
Herrera-Vest graduated from Mundelein College with a degree in bilingual bicultural studies and a minor in education. She then attended Roosevelt University for her administrative degree. After graduation, she taught for eight years before transitioning to an administrator position for the State of Illinois' pre-K program. Angelica then participated in the LAUNCH principal training program, and began her career at Ortiz in 1996. She transitioned into the principal role after serving as the assistant principal for two years. Over the course of many years of leadership, Angelica has created a robust instructional program for her 600 Ortiz students. Notably, she built a transitional bilingual program to support the school's large population of bilingual learners; 50 percent of students are engaged in the bilingual program and 50 percent of students are engaged in the general program. Moving forward, she hopes to continue working closely with her teacher teams to build on past successes and continue providing the best instructional program possible for students.
The relationships that Herrera-Vest has developed with her teachers and students are the highlight of her principal role. She relishes the daily interactions she has with both teachers and students. "Being principal is the most rewarding job and I feel fortunate to have been able to shape the minds of our younger generations all these years. I hope my love of learning, learning about all things transfer onto my students and future students. I want them to understand the importance of education."