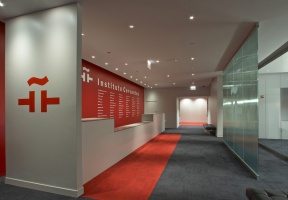 Instituto Cervantes of Chicago, the city's premier Spanish culture and education center, celebrates the national Hispanic Heritage Month with a series of special public programming, most- free of charge, September 15 – October 15, 2019. Instituto Cervantes, located at 31 W. Ohio Street, launches its month long festivities with a free open house and reception on Wednesday, September 18 from 5p.m. to 7p.m. Hispanic Heritage Month at Instituto Cervantes continues with a variety of programming that is open to the public:
Book Event: Author Julio Ortega in conversation with Silvia Goldman
Monday, September 23 at 6:00 p.m.
FREE
Writer, university professor and Peruvian literary critic Julio Ortega will present his most recent work "The Literary Comedy: Global Report of Latin American Literature," published by The University press of the Catholic University, Lima, Perú, and the TEC of Monterrey. In conversation with Silvia Goldman, Ortega will share an episodic and literary journey of some Latin American literary figures. He will talk about his encounters with Rulfo, Goytisolo, Vargas Llosa, Cortázar, Carlos Fuentes, Poniatowska, among other friendly writers.
Monthly Networking Event: Midwest Science & Innovation Cervantes Network
Wednesday, October 9 at 6:00 p.m.
FREE
The Midwest Science & Innovation Cervantes Network is monthly science 'meetup' created to improve the relationship between science and society. It is an inclusive community of scientists, engineers, economists, public health specialists, and sciences enthusiasts from across the Midwest. The evening will include a keynote from Dr. Ismael Santa-María Pérez, Assistant Professor of Pathology and Cell Biology, Columbia University, New York, who will share their perspectives on working Advancements in Alzheimer's disease.
More information about the Instituto Cervantes of Chicago may be found at http://chicago.cervantes.es.