Por: Edith A. Pérez, MD, Directora, SU2C Comité de Equidad de Salud en Pruebas Clínicas de Cáncer, Profesora de Medicina, Colegio de Medicina de la Clínica Mayo
Editada por Lawndale Bilingual News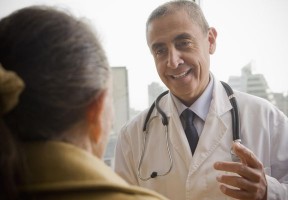 Desafortunadamente, el cáncer es la causa principal de muerte entre los hispanos en E.U., con la probabilidad de por vida de morir de cáncer, reportado en 1 de cada 5 hombres y 1 de cada 6 mujeres. Para los milenios responsables de su propia salud y la salud y el bienestar de sus padres, estas estadísticas pueden ser una pesada carga y pueden ser influenciadas por el hecho de que los hispanos es menos probable en general que sean diagnosticados en una etapa temprana, cuando el tratamiento es más efectivo. Para ayudar a la gente a navegar el muchas veces complicado proceso de la prevención, la detección y el cuidado del cáncer, Stand Up To Cancer (SU2C), organización que trabaja para patrocinar los más nuevos y promisorios tratamientos del cáncer para salvar más vidas, aconseja como hacer las preguntas correctas para ayudar a reducir el riesgo del cáncer.
1. Pida una evaluación de riesgo de cáncer. Averigüe si tiene historial de cáncer en su famiia y sepa cuales son los riesgos para ciertos tipos de cáncer – el cáncer principal entre las mujeres hispanas es el cáncer de mama y entre los hombres hispanos el cáncer de próstata, sin embargo es importante que sepa que hay otros tipos de cáncer que pueden ocurrir entre los hispanos. Discuta las alternativas de estilo de vida que puedan aumentar o reducir su potencial de riesgo de cáncer.
2. Visite a su doctor a la primra señal de nuevos síntomas y sea específico. Si está experimentando cualquier síntoma diferente o fuera de lo común, como un nuevo bulto, enrojecimiento, dolor o una tos persistente, busque pronto atención médica, para obtener un diagnóstico apropiado y que le puedan recomendar un tratamiento. Aunque el doctor puede encontrar que los síntomas no son graves, si están asociados con el cáncer, las probabilidades de supervivencia suelen ser mucho más altas si los cánceres se encuentran en las primeras etapas y, con suerte, incluso antes de que se conviertan en cáncer.
3. Infórmese sobre los exámenes de detección de cáncer. Los exámenes aumentan las probabilidades de detectar ciertos tipos de cáncer en sus primeras etapas, antes de que una persona tenga síntomas y cuando puede ser más fácil de tratar. Empiece visitando GetScreenedNow.org para encontrar pruebas recomendadas para su edad y género.
4. Discuta las mejores opciones de nutrición y ejercicio para su salud. Su doctor puede aconsejarle sobre sus alternativas de alimentos saludables y ejercicios que sean buenos para su cuerpo. ¿Empezó usted una nueva dieta o plan para perder peso? Déjele saber al doctor sobre su rutina. Puede reducir su riesgo a todo tipo de cáncer cerca de la mitad con un estilo de vida saludable, dieta, actividad, alcohol limitado y no fumar.
5. Pregunte sobre pruebas clínicas. si le han diagnosticado cáncer, una prueba clínica puede ser la mejor oportunidad para que reciba un nuevo tratamiento de vanguardia. Stand Up To Cancer ofrece un servicio gratuito de prueba clínica en StandUpToCancer.org/ClinicalTrials. Hay idioma español disponible en línea y vía telefónica y la red está disponible en español.