Compiled by Ashmar Mandou
John Leguizamo's Latin History for Morons
October 29th through November 3rd
Chicago Cadillac Palace Theatre, 151 W. Randolph
www.BroadwayInChicago.com
LATIN HISTORY FOR MORONS is inspired by the near total absence of Latinos from his son's American History books. John Leguizamo embarks on an outrageously funny, frenzied search to find a Latin hero for his son's school history project. From a mad recap of the Aztec empire to stories of unknown Latin patriots of the Revolutionary War and beyond, Leguizamo breaks down the 3,000 years between the Mayans and Pitbull into 110 irreverent and uncensored minutes above and beyond his unique style.
Photo Credit: Matthew Murphy
Disney in Concert: The Nightmare Before Christmas
October 31st and November 1st
Auditorium Theatre, 50 E. Ida B Wells Dr.
www.auditoriumtheatre.org
"What's this? What's this?" No, it's not a dream…The Nightmare Before Christmas is returning to Chicago! Get in the Halloween spirit with a screening of Tim Burton's classic stop-motion film, featuring beloved songs like "This Is Halloween!" and "Jack's Lament" performed live-to-film by the Chicago Philharmonic, who "truly [bring] to life the spooky magic of Danny Elfman's legendary music" (Chicago Stage Standard).
Photo Credit: Luke Bandoske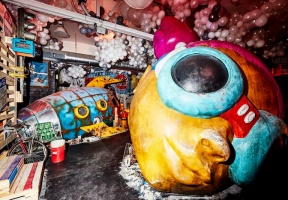 Hebru Brantley's Nevermore Park -Home of Flyboy
October 24th through December 1st
Nevermore Park, 949 W. 16th St.
www.nevermorepark.com
Hebru Brantley, MWM Universe and Angry Hero, are partnering to create Nevermore Park, a neo-futuristic take on Chicago—where black culture and heroes are at the forefront. Visitors to Nevermore Park will be transported into the fictional hometown of Brantley's iconic characters: Flyboy and Lil Mama. The interactive art installation spans nearly 6,000 square feet and is scheduled to open in the fall of this year.
Joffrey Ballet Presents Jane Eyre
Through October 27th
Auditorium Theatre, 50 E. Ida B Wells Dr.
www.Joffrey.org
Marston's adaptation of Charlotte Brontë's trailblazing novel is a "quietly enthralling classic" (The Guardian) that combines theater and dance to tell the coming-of-age story of Jane Eyre, one of literature's most iconic characters. After a difficult upbringing, Jane becomes the governess for the mysterious Mr. Rochester. With stirring choreography and an enthralling Victorian design, this avant-garde ballet breaks the mold of the traditional ballet heroine.
Nike 'Chicago Style' Pop-Up
October 25th through November 4th
Nike's "Chicago Style" Diner/Lulu's Hot Dogs, 1000 S. Leavitt St.
www.nike.com/chicago
Nike Chicago invites Chicagoans to visit a unique pop-up experience that celebrates Nike's belief that 'Sport Changes Everything' through the lens of a fully revamped "Chicago Style" diner on the city's Near West Side. Starting this Friday, Lulu's Hot Dogs at 1000 S. Leavitt (Chicago) has been transformed into Nike's Chicago Style diner a real life manifestation of the diner seen in Nike's newest television Ad campaign "Chicago Style" which celebrates some of Chicago's most iconic sports figures and moments along with the next generation of homegrown athletes and community ambassadors that are using sports to change the city for the better.