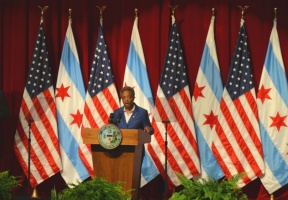 El equipo de presupuesto de la Ciudad concluyó la semana pasada una serie de reuniones de presupuesto del ayuntamiento donde cerca de 2,600 residentes, funcionarios electos y otras partes interesadas de todos los barrios de Chicago, participaron compartiendo sus puntos de vista sobre como la Ciudad debería atender el presupuesto del 2020 y sus problemas financieros y económicos a largo plazo. Después de escuchar a los residentes de Chicago, la Ciudad está publicando los resultados del proceso de compromiso del Presupuesto del 2020 de este año para dar a todos los interesados información sobre los comentarios recibidos, lo que será considerado en el desarrollo del presupuesto del 2020 de la Ciudad. La encuesta del presupuesto y los resultados del ayuntamiento mostraron un fuerte interés en entender o atender lo siguiente:
• Impuestos de Propiedad
• Reforma de Pensiones
• Acuerdos y Juicios
• Reducción de Personal
• Vivienda Asequible
• Varios otros Gastos Prioritarios
Un sumario de los resultados de la encuesta y las opiniones de las reuniones de ayuntamiento del presupuesto las puede ver en la red de Chicago Office of Budget and Management en www.chicago.gov/2020budget. La Alcaldesa Lightfoot hablará sobre el presupuesto del 2020 ante el Concilio de la Ciudad el miércoles, 23 de octubre. Se espera que el Concilio de la Ciudad vote el 2 de noviembre sobre las ordenanzas del presupuesto del 2020.