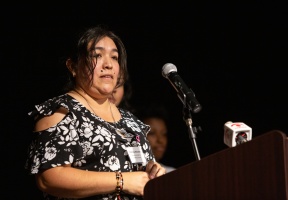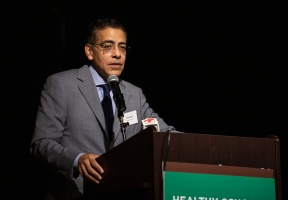 The Change for Good Luncheon, held at the National Museum of Mexican Art on October 8th, featured testimonials from parents and other community leaders who shared their perspectives and HSC's priorities on school health services, green schoolyards, healthy school food, physical education and accountability and transparency. State, city and school district leaders listened and shared their plans for addressing these important issues. This year's Change for Good Luncheon was held in Pilsen to highlight HSC's work in communities. Guests had an opportunity to tour the Space to Grow schoolyard at Orozco Community Academy, which is a very short walk from the museum. Space to Grow is an innovative program to transform schoolyards into places that support outdoor learning, active play, alleviate basement flooding and become a hub for the entire community.  The event featured grassroots leaders—including parents and a principal—and public officials representing the city of Chicago, Chicago Public Schools and the state of Illinois. Advocate Children's Hospital and GCM Grosvenor were presenting sponsors, and Northern Trust is a gold sponsor.  Earlier this year, Healthy Schools Campaign offered Governor Pritzker and Mayor Lightfoot recommendations for creating healthy school environments.
Photo Caption 1: Parent leader Patricia Morales addresses the attendees at the Change for Good Luncheon sharing her perspective on the importance of school health services.
Photo Caption 2: Deputy Governor Jesse Ruiz spoke to grassroots leaders on healthy school food and physical education and accountability and transparency.
Photo Credit: Healthy Schools Campaign