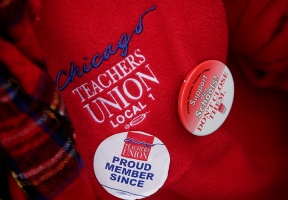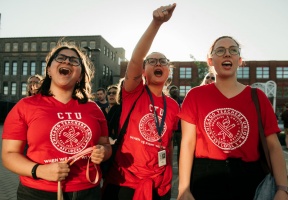 Courtesy of Chicago Teachers Union
As CPS drags on addressing class size issues at the bargaining table, teachers, parents and students from South Side schools are calling on the mayor's bargaining team to address a crisis of overcrowding in elementary and high schools. As CPS continues to stonewall educators at the bargaining table and deny the district has a problem with exploding class sizes, the CTU's analysis of CPS 20th day enrollment figures shows that almost a quarter of all elementary students across the city are being subjected to overcrowded classrooms that the mayor and her allies would never accept for their own children. The scope of the problem is city-wide. More than 40,000 elementary students in over 1,300 classrooms are packed into classrooms of over 29 students, and at many schools the numbers are much worse—including worse than last year.
At Gresham on the South Side, which has struggled with overcrowding for years, one 4th grade class has 42 students, a kindergarten and a 5th grade class have 37 students, and a 3rd grade class has 49 students. A kindergarten class at Bennett Elementary School is bursting with 42 five-year-olds. The student body at both schools is over 95 percent Black and low-income. At Simeon High School, which boasts a school slogan that says "Excellence is the Only Option," core classes are struggling with massive overcrowding, with 39 students in two social studies classes, 39 students in a physics class and 40 students in two geometry classes.
One class at Smyth elementary has 50 students. Educators are using the new data—provided by CPS for every classroom in the district—to ramp up demands for hard and fast class size limits in the next contract. Educators have been clear that they seek a contract that addresses ballooning class sizes that deny students the quality education they deserve. And those class size limits must be put in writing in an enforceable contract so parents and teachers can hold the mayor and CPS accountable for their promises. The CTU has proposed that CPS set enforceable class size maximums for all grade levels. CPS and the mayor's office have refused.