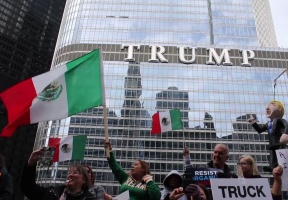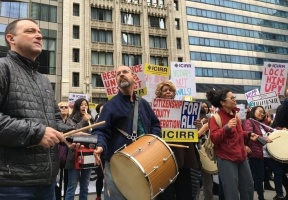 By: Ashmar Mandou
President Trump made a first time visit to Chicago on Monday where he spoke at the International Association of Chiefs of Police Conference at McCormick Place, addressing a plethora of topics, including efforts to reduce crime and paying respect to Chicago police officers wounded in the line of duty. The president blamed the shootings and high crime rates on Chicago Police Superintendent Eddie Johnson, Mayor Lori Lightfoot, and Chicago's status as a sanctuary city. "You need leadership at the mayor's level and you need a police commission or a police superintendent who can do the job, and obviously that's not what you have," he said.
During his speech, thousands of protestors, once again took to the streets and cried out "Not in our House!" in front of Trump Tower, pushing back on the Trump Presidency and the many ways in which the administration and its policies flaunt the will of the people and attack the foundations of the democracy, according to a member of Indivisible Chicago Alliance
Indivisible Chicago Alliance has been out-front in calling for Trump's impeachment because of his policies and also protested the abusive policies that embolden "white nationalists and deprive all communities of the services and protections they deserve and need to thrive." Monday, a coalition of organizations was out in full force to protest Trump's remarks Chicago. "His ridiculing of the very real violence promoted by his pro-gun policies, and his attempts to thwart us and all Sanctuary Cities as we protect our immigrant neighbors. For these reasons and more, we protest the very idea that he would come to Chicago, raise money here and–most certainly–bash us once again, then slip out of town without talking directly to the people most impacted by his brutal policies. Bottom line: there is no shortage of reasons for protesting Trump's policies.
"Trump's history of stoking white supremacy and encouraging police brutality, as when he told police at a Long Island speech not to be "too nice" to people they arrest, are core elements of his fascist program and why we say the whole regime must go now," said Carl Dix, co-initiator of RefuseFascism.org. Refuse Fascism launched the national #OUTNOW! movement—mass, sustained, nonviolent protest—to drive the Trump/Pence regime from power.
Event co-sponsors:  Blue Beginning; Chicago Women Take Action; Coalition for a Better Illinois 6th; Democratic Party of Oak Park; Illinois Council Against Handgun Violence; Indivisible Oak Park Area; Indivisible Brookfield; Indivisible Chicago Alliance; Indivisible DuPage; Indivisible Evanston; Indivisible IL9; Indivisible Illinois; Indivisible Lincoln Square; Indivisible Chicago Northwest Side; and Indivisible South Side.
After his speech, signed an executive order at the conference creating a presidential commission on law enforcement to study issues like substance abuse, homelessness and mental illness, the White House said.