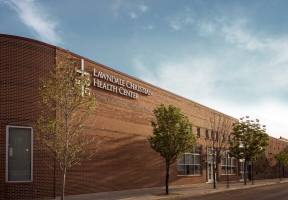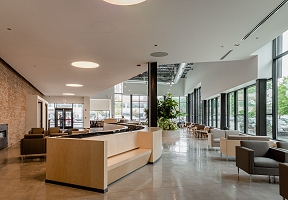 By: Ashmar Mandou
On Wednesday Governor JB Pritzker and the Illinois Department of Human Services (IDHS) Secretary Grace B. Hou joined the Lawndale Christian Health Center CEO Bruce Miller to unveil an IDHS office partnership that aims at making health care and traditional public benefits available in one location.
The IDHS office is co-located with the Lawndale Christian Health Center (LCHC) at 3910 and 3920 W. Ogden Ave in Chicago. This innovative co-location provides traditional IDHS services like Supplemental Nutrition Assistance Program (SNAP) benefits, Medicaid and cash assistance, along with a range of healthcare services including immediate care, dental services, women's health services, a pharmacy and many other services for children, seniors and everyone in between.
"This innovative, unique partnership is rethinking and rebuilding the way we serve low-income families in the state of Illinois," said Governor JB Pritzker. "This framework serves Illinoisans with efficiency, dignity, and respect – and it's a model and an approach that we intend to apply to our future endeavors as I work to advance health care as a right for everyone." In addition, IDHS was recently awarded over $650,000 from the US Department of Agriculture to develop a new, centralized case management call center so customers aren't waiting for hours on the phone to get help.
"It's really been wonderful to work with IDHS to develop this concept and see it through together," said Lawndale Christian Health Center CEO Bruce Miller. "We're excited to be part of such a unique opportunity to provide so many important services in one place. We think a lot of people will be helped by this partnership."
Lawndale Christian Health Center is dedicated to providing quality, healthcare services for low-income families. Annually, they serve over 62,000 patients in the Chicagoland area. Last year LCHC served over 20,000 uninsured people, and over 31,000 on Medicaid. Ninety-five percent of their patients live 200 percent below the poverty line.