By: Ashmar Mandou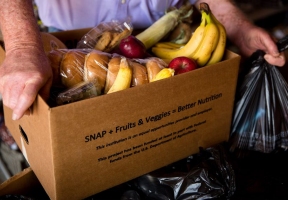 New rules for those who receive federal food assistance are expected to impacts thousands of people in Cook County. Nearly 50,000 Cook County residents who are able-bodied, under the age of 50 and not living with children or other dependents will be restricted to three months of food assistance in a three-year period unless they work at least 80 hours a month. According to the Trump administration, the objective is to deter people from government assistance and move them into the workforce. However, advocates for low-income residents say the new rule will make the lives of those who are struggling unnecessarily harder. Shortly after the announcement, Cook County Board President Toni Preckwinkle released a statement to the media in reaction to Trump administration's new rule.
"The Trump administration has once again enacted a policy that attacks and further marginalizes the most vulnerable members of our community. One in seven people in Cook County experiences food insecurity. That number will surely rise when the new Supplemental Nutrition Assistance Program (SNAP) rule takes effect. Taking away food – one of a person's most basic needs – is by all measures cruel, unusual and unconscionable. This new rule will disproportionally impact people of color and will only serve to perpetuate poverty in some of our most underserved communities. Government's most basic role is to ensure the safety and security of its people. This rule does just the opposite. I am appalled and saddened by the callousness of this administration."
The majority of Illinois' 1.8 million Supplemental Nutrition Assistance Program (SNAP) recipients, most of whom are either elderly, or children or people with disabilities, are unaffected by the change. However, approximately 50,000 of the county's 826,000 food stamp recipients will be required to work beginning in the new year. State officials and social service groups revealed that people who struggle to find or keep jobs will be drive out of the SNAP program and stated that there isn't enough federal funding to help connect them with jobs, according to the Illinois Department of Human Services. According to the Illinois Department of Human Services, single adults receive, on average, $200 a month in food aid.
Federal law permits states to request waivers from the work requirements for localities with high unemployment rates or where jobs are scarce, indicated by local unemployment rates that are 20 percent higher than the national average over a 24-month period. Illinois, like other states, received waivers for the entire state for many years and this year Cook County's unemployment rate is too low to quality for the waiver.
According to CEO of Kids First Chicago Daniel Anello, the new rule will also impact CPS families. "The announcement of the rollback of Supplemental Nutrition Assistance Program, or SNAP, benefits by the Trump administration will place millions of dollars at risk that Chicago Public Schools (CPS) receives to support students that require extra investments to thrive and succeed in our public school system," said Anello. "Due in part to their SNAP eligibility, more than 100,000 CPS students are eligible for Free and Reduced Lunch. If the proposed changes to SNAP are implemented, those students would be put in further jeopardy at a time when there are already far too many under-resourced CPS schools. It is imperative that the State of Illinois and Chicago Public Schools refine the criterion used to define student needs and depart from using metrics like the SNAP program eligibility, which has proven to be vulnerable to political agendas. These blatant attacks on the poor need smart and courageous solutions to ensure our most vulnerable have equitable pathways to success."