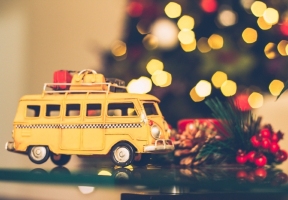 You have enough to worry about before traveling, especially before the holidays. You're finishing your shopping, wrapping up things at work, and packing suitcases, and protecting your belongings while you're gone may not be top of mind.  COUNTRY Financial has outlined six simple tips for keeping your home safe and secure before you hit the road.
Stash your stuff in a safe
Before you leave, place your valuables in a locked safe or safe deposit box. If those aren't options for you, make sure valuables aren't in plain sight or in an obvious place.
Hire a sitter
If you have a pet, you can either hire a pet-sitter or drop Fido off at the local doggie daycare. Expect to pay around $11 per hour* for their services. For pet-free homes, consider hiring a house sitter to help water plants and check in on your home every couple of days. Websites like Rover and TrustedHousesitters can help you find people for both.
Stop your mail
A tell-tale sign no one's home, is when a mailbox is overflowing and packages are stacked on the porch. Before you leave town, swing by your local post office or fill out their online form to put a hold on your mail. 
Consider smart home technology
Burglars aren't the only thing to worry about while you're away. Installing safe home technology can help you keep an eye on your home from afar. Many companies offer a variety of smart home technology like smoke and carbon alarms, garage sensors, and water detection – so if water is detected in your basement or a smoke alarm is going off, your smart phone is alerted immediately. Simply search online for "smart home technology" for some options.
Keep up home appearances
If you're going on an extended trip, hire a landscaping company to cut your grass or shovel your driveway. Anything you can do to keep your property looking fresh can deter thieves from breaking in. 
Be careful on social media
This is nothing new, but something that's definitely still happening. If you post you're on vacation, online predators know your house is empty and waiting for them. Try not to post your vacay pics until you're back.
Learn more about protecting the things and the people you love at www.countryfinancial.com.