By: Ashmar Mandou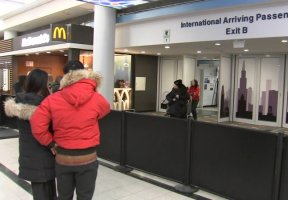 The Chicago Department of Public Health held a press conference Tuesday afternoon to state that the City is working in collaboration with the Centers for Disease Control and Prevention (CDC) and other federal, state and local agencies to implement a screening program at O'Hare International Airport for travelers from a specific region of China in response to cases from that country of a novel (new) coronavirus (2019 nCoV). The CDC announced that O'Hare was being added to a list of airports in the United States where enhanced health screenings will be implemented to detect ill travelers arriving in the United States on direct or connecting flights from Wuhan, China.
"While the risk from the novel coronavirus to the American public is currently deemed to be low, we're taking these proactive measures based on recommendations from the CDC to ensure we are monitoring traveler health appropriately," said CDPH Commissioner Allison Arwady, MD, MPH. "We're working closely with federal, state and local authorities on this and will be ready when screening begins." The program is designed to assess and identify potentially infected travelers at these airports: San Francisco (SFO), New York (JFK), Los Angeles (LAX), Atlanta (ATL), and Chicago (ORD).
"As always, the Chicago Department of Aviation works closely with our federal and local partners to ensure both the safety and security of the traveling public as well as efficient airport operations. Over the years, we've developed deep relationships and gained useful experiences when it comes to addressing situations like the 2019 Novel Coronavirus, and airport contingency preparations began a week ago — before the CDC initiated this step," said CDA Commissioner Jamie Rhee. "As both the CDC and CDPH have made clear, this action will impact a very limited group of travelers, and the broader traveling public and airport employees are not at risk. Nevertheless, we will continue to take this seriously, as well as continue working with our partners to ensure the airport community is fully informed."
The CDC on Tuesday confirmed the first case of coronavirus in the United States in the state of Washington. The patient recently returned from Wuhan, China, and sought care at a medical facility in the state of Washington, where the patient was treated for the illness.
Many of the patients in the outbreak in Wuhan, China have reportedly had some link to a large seafood and animal market, suggesting animal-to-person spread. However, a growing number of patients reportedly have not had exposure to animal markets, suggesting limited person-to-person spread is occurring.