Por: Ashmar Mandou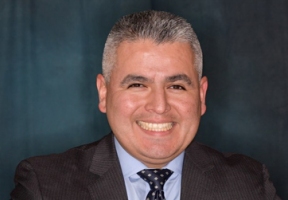 A principios de esta semana, la Ciudad nombró a Alberto Ortega como Director de Estrategia de la Fuerza Laboral y Participación Empresarial, un rol que requerirá la implementación de una nueva estrategia de desarrollo de la fuerza laboral en los departamentos de la Ciudad de Chicago y las Agencias Hermanas, en colaboración con el Condado de Cook y otras partes interesadas clave. Esta estrategia se centra en promover la movilidad económica de los residentes de bajos ingresos al ampliar el acceso a oportunidades educativas y de capacitación.
Antes de su nombramiento, Ortega fundó la Workforce Employer Resource Collaborative (WERC), una red de más de 35 organizaciones sin fines de lucro que tiene como objetivo unir a los empleadores con trabajadores calificados, conectar a las personas con empleos asalariados para mantener a la familia y personalizar estrategias para mejorar el reclutamiento y la retención . "Es realmente un honor unirme al alcalde Lightfoot y toda la ciudad para construir relaciones para el impacto económico y social a través de actividades significativas de participación tanto internas como externas para continuar avanzando en la ciudad como un empleador inclusivo y diverso, y generar empleos y crecimiento económico a todo Chicago ", dijo Ortega en un comunicado.
Ortega supervisará el recién creado Chicago Construction Careers Council (C4), un grupo de trabajo de varios departamentos y agencias que se encarga de crear nuevos estándares para la contratación, capacitación y el suministro de mano de obra para proyectos de construcción en Chicago.
Parte del rol también tendrá a Ortega trabajando junto con los estudiantes de las Escuelas Públicas de Chicago (CPS) y los estudiantes de City Colleges of Chicago (CCC) bajo el paraguas de Career Launch Chicago en un esfuerzo por preparar a los jóvenes para las industrias en auge. Career Launch Chicago es el nuevo esfuerzo de aprendizaje juvenil de la ciudad que conectará a los estudiantes de CPS con cursos universitarios y aprendizaje remunerado basado en el trabajo, lo que conducirá a credenciales postsecundarias de City Colleges of Chicago para carreras en atención médica, tecnología de la información o fabricación avanzada.
"La fortaleza de Chicago radica en nuestra capacidad para atraer y mantener oportunidades educativas y laborales para nuestros residentes para hoy y para el futuro", dijo la concejal Susan Sadlowski-Garza (10), presidenta del Comité de Desarrollo de la Fuerza Laboral. "Espero con interés trabajar con el Sr. Ortega en la creación de una agenda sólida de la fuerza laboral que atraiga a empresas y personas en toda la ciudad".
Ortega posee una maestría de la Facultad de Administración de Servicios Sociales de la Universidad de Chicago y una licenciatura en Sociología de la Universidad Loyola de Chicago.