By: Ashmar Mandou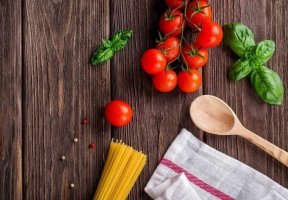 According to a study commissioned by The Chicago Community Trust, 49 percent of Humboldt Park households received food stamp benefits, and 30 percent of households accessed emergency food, such as a food pantry or soup kitchen. Despite this support, 46 percent of households were still food insecure, compared with 13 percent of households nationwide. Food insecurity resonates with many residents within the Humboldt Park community due to a myriad of reasons. In an effort to combat this epidemic and through generous support from an anonymous donor to the Norwegian American Hospital Foundation, the hospital is encouraging those experiencing food insecurity to take advantage of their upcoming food pantries dates. Prior to the event, Director of Food Service at Norwegian American Hospital Marianne Parry discussed the misconceptions of people hold towards food insecurity and what people can expect when they enter Norwegian American Hospital.
Marianne Parry, director of Food Service at Norwegian American Hospital
Lawndale Bilingual News: There are several issues afflicting the Humboldt Park community, such as gun violence, housing inequality, unemployment, and lastly food insecurity.  According to The Chicago Community Trust, in 2018 over 40 percent of households experienced food insecurity.  From your standpoint, talk to me about the perils of households experiencing food insecurity and what are the misconceptions most people tend to associate with food insecurity?
Marianne Parry: There are many misconceptions about households and individuals experiencing food insecurities to include:
• They are jobless or homeless or just don't want to take care of their families. Most of us are just a few incidents away from being food insecure. Think of your family and your budget and what happens when a major appliance or two break down, a major car repair or need for a new car, a new addition to the household (bringing in family that needs help) or a major illness. Think of those on a fixed income with the bills associated with the change in weather. Any of these or a combination can lead to food insecurities.
• Only skinny people are food insecure, many of the less expensive foods are laden with fat and calories and are more readily available. Weight has nothing to do with being food insecure.
• Those who are food insecure often times are sicker when they come into the hospital. They may suffer from malnutrition (regardless of weight). A malnourished patient will be more susceptible to infection (either at home or in the hospital), heal at a much slower rate and is more likely to have extended stays or require post-hospital care.
Norwegian American Hospital received funds from an anonymous donor in an effort to host food pantries for the community.  What can people expect upon entering the food pantry? Is it free? Explain the process.
When individuals come to our pantry, they can expect to be treated with kindness and dignity. The pantry is on a 'first come, first served" basis. We will register every individual and collect basic data such as phone number and physician's name, if they have one. If the individual does not have a physician, we can make recommendations. The food pantry is free. We also offer a free blood glucose screening to those who are interested in learning their numbers. Those who participate in the screening will then receive a coupon to fill out for a "Crock Pot" drawing done in the last five minutes of the pantry. We give out approximately 90 bags of food on the first afternoon and then again Wednesday morning.
For those interested in donating food to the pantry, are there requirements?
We request that any donations to the pantry be either monetary through the Norwegian American Foundation to procure items from the Greater Chicago Food Depository or just as important, a gift of time on the Tuesday morning of each pantry. We need volunteers to help bag the food from 10 a.m. to noon. The food items come from the Greater Chicago Food Depository, and we have to breakdown large pallets of food and bag them for the individual participants. We do not normally accept food items due to sanitation and storage requirements.
Upcoming food pantry dates open for the community are Tuesday, Jan. 28th between 3p.m., to 4:30p.m., and Wednesday, Jan. 29th between 10a.m., to 11:30p.m., at the Norwegian American Hospital Cafeteria located on the second floor. Norwegian American Hospital is located at 1044 N. Francisco Ave.