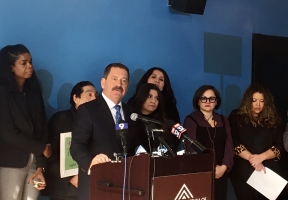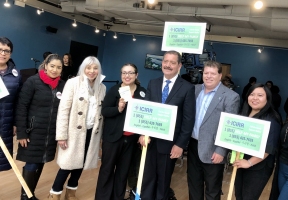 By: Ashmar Mandou
A pool of elected officials gathered Tuesday morning at the National Museum of Mexican Art to denounce President Trump's recent announcement of increased agents deploying to ten sanctuary cities. Congressman Jesús "Chuy" García, issued the following statement in response to the announcement from the Trump Administration that it will deploy 100 agents from the BORTAC (Border Patrol Tactical Unit) teams to ten sanctuary cities, including Chicago, from February to May:
"In the 1980's under the leadership of my dear friend and mentor, Mayor Harold Washington, we signed an executive order making Chicago a welcoming city for all, regardless of citizenship.
"Over the years I've seen both good and bad policies for immigrants from the White House, but I didn't think I'd see a president wage war on non-white immigrants. That is what Donald Trump is doing.
"We learned this weekend that just in time for the census and the election, Trump is launching a plan to send immigration officers in military uniforms, helmets and weapons into our sanctuary cities. This is nothing but a campaign of fear to keep communities marginalized.
"The timing is no accident as it coincides with the months when census takers will be going door-to-door. The intimidation has a clear purpose. If our neighbors in our Latino, African American and Asian American communities are afraid to open their doors, Trump succeeds.
"Trump wants to undercount our communities in the census, which would reduce federal resources for our cities and weaken our political power. He is hoping his intimidation will keep new citizens in communities like the one I represent, from registering to vote and voting, but we're going to prove him wrong.
"Our strength is in standing together for our immigrant communities making sure they know their rights, they are counted and they participate fully in the democratic process by using the power of their vote.
"The future of our city is at stake. We repudiate the announcement and intent of this campaign of intimidation. We will keep Chicago a city that stands in solidarity with all its people."
To report any incidents involving ICE enforcement, please call or text the Family Support Hotline 24 hours a day, 855-HELP-MY-FAMILY (855-435-7693).