By: Raul I. Raymundo, Chief Executive Officer of The Resurrection Project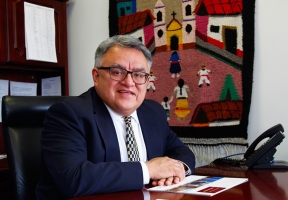 We are living in turbulent times. Too much uncertainty and an overload of coronavirus information are causing confusion, panic and chaos. First, we should all adhere to reputable sources (i.e. Center for Disease Control, National Institute of Health, National Institute of Allergy and Infectious Diseases) for guidance on how to prevent the spread of this virus and what to do if you have it. Second, chose one or two reputable news outlets (avoid overload) to keep you updated on the latest about Covid-19. Third, use social media to wisely to stay in touch with your loved ones, check in on how they are doing and, above all, to assist them when they need help. 
With respect to social support, we need to be empathetic to those experiencing high emotions during this turbulent time, especially for those who are at high risk of contracting COVID-19 like our elders. We are all in this together and we must have the utmost respect for one another. Also, while we are being asked to maintain our distance from each other, we can still be relational. Call and text friends and family. Having positive discussions about this new normal is just as important as our focus on flattening the curve. We should intentionally thank those individuals who must work (with added stress levels) for their extra efforts. These include, not only, our health care professionals and first responders, but also maintenance workers and others in the service economy.  
As for economic support, the Federal Reserve has acknowledged that they have no tools to directly support households, who we know from previous crises, will be impacted the most. These include the under-employed, hourly and part-time workers in the service and low-wage economy. The Federal Government is working on a package to make sure that everyone who needs to be tested for COVID-19 gets it for free. They are also considering some relief for families in need, though from past experience, I am skeptical of how fast the final package will reach families. As for local governments and nonprofit organizations, they are doing their best in taking leadership to address many challenges during these trying times. Hence, anyone who can should support their local favorite charities that are on the front lines helping with families who may not be able to make their rent or mortgage payment and/or those are struggling to make ends meet. Practicing social distancing with social and economic support will prevent further deterioration of our social fabric and hopefully further prevent our economy sinking into the abyss. We are all in this together!