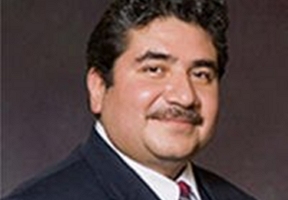 Democratic Committeemen in the 16th Cook County Board District last Wednesday voted to name Frank J. Aguilar, a former state representative and activist in the Mexican American community, to serve as the successor to Jeffrey Tobolski who resigned from office last month. The meeting was chaired by Berwyn Township Democratic Committeeman Robert Lovero who began the meeting at the Italian American Club located at 6710 W. 16th St.  Six candidates presented their credentials to the committee during a two-hour meeting. The 16th District Democratic selection committee included Lovero, Vince Cainkar of Stickney Township, Blanca Vargas of Cicero Township, Karen Yarbrough of Proviso Township, Steven Landek of Lyons Township, Barrett Pederson of Leyden Township, Mike Zalewski of Riverside Township and Arron Ortiz of the 14th ward. Pederson participated by teleconference.  
Aguilar has served as a liaison to the Hispanic and Latino community in the 16th District for more than 15 years. He was a member of the Illinois House from 2002 until 2004, and has since headed the Cicero Mexican American Cultural Committee organizing annual events for the Mexican American community that have attracted tens of thousands of attendees from the public, including the annual Cinco de Mayo celebration each Spring. Aguilar also served as the former executive director of the Little Village Chamber of Commerce, and serves on the Junior Achievement Suburban Regional Board help provide economic and business education or kids. The 16th District extends from Franklin Park in the north to Hodgkins in the south, mostly representing Chicago's west suburbs including Cicero, Bridgeview, Berwyn, Lyons, Forest View, Melrose Park and parts of Chicago's Little Village area.
PHOTO CAPTION: Democratic Committeemen in Chicagoland's west and southwest suburbs voted to name former State Rep. Frank J. Aguilar to fill the vacancy on the Cook County Board's 16th District that was vacated with the resignation of Cook County Commissioner Jeffrey Tobolski. Aguilar will hold the seat for two years until the next election.