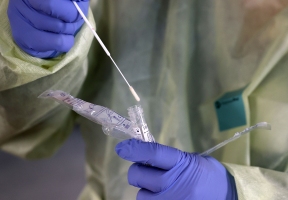 Mayor Lori E. Lightfoot joined co-founders of Community Organized Relief Effort (CORE), Sean Penn and Ann Lee, to provide an update on the City's COVID-19 testing facilities, which are strategically placed throughout Chicago to target the neighborhoods most in need. The City announced a partnership with CORE and Curative last week to stand up six City-run testing sites in Chicago in an effort to increase testing over the next several weeks and better understand Chicago's readiness for reopening under its 'Protecting Chicago' five-phase framework.
In partnership with the City's Racial Equity Rapid Response team and community organizations, the City has already opened and begun operating two testing sites in communities that have experienced a disproportionate impact from COVID-19. The first two sites were Maria Saucedo Scholastic Academy, which opened on Wednesday, May 13, in the Little Village neighborhood and Dr. Jorge Prieto Math and Science Academy, which opened on Friday, May 15, in the Belmont Cragin neighborhood. Together, these two sites are testing symptomatic residents in the surrounding communities and have collectively conducted over 800 tests in the less than one week they have been open.
Moving forward, the City will be opening four additional sites. One of which will be located in the parking lot at Guaranteed Rate Field. Unlike the others, this site will be testing asymptomatic persons, focusing specifically on frontline workers battling the COVID-19 pandemic – including both first responders and healthcare workers. The remaining sites will have staggered launches over the next several weeks.  Symptomatic residents and asymptomatic frontline workers that are looking to be tested for COVID-19 are encouraged to pre-register for a test online at chicago.curativeinc.com/welcome. For more information about the City's response to COVID-19 text COVID19 to 78015, email coronavirus@chicago.gov or visit Chicago.gov/coronavirus.