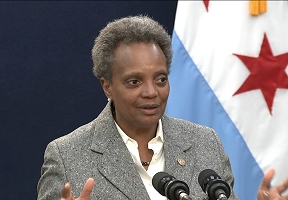 Mayor Lori E. Lightfoot, alongside the Chicago Department of Public Health (CDPH), today announced the "Protecting Chicago" framework that the City will be using to guide Chicago's reopening process amid COVID-19. The framework – organized into five phases in alignment with the State of Illinois' "Restore Illinois" plan – will advise Chicagoans on how to safely exit from shelter-in-place while continuing to prioritize the health of our most vulnerable residents.
"Throughout the COVID-19 crisis, we have been committed to basing our decisions on the science and data related to this disease and communicating our actions to the public in an open and transparent way," said Mayor Lightfoot. "Though we still have a way to go before we can begin reopening our city, when the time comes, that reopening will follow our thoughtful, data-driven process aimed at ensuring all our residents and businesses are informed and supported every step of the way."
The framework lays out how the City is thinking about reopening, and the details for each phase are being informed by economic and health data, and a combination of input from industry working groups, health experts and the public. As part of the reopening strategy, the City is soliciting public input to gauge sentiment on shelter-in-place and ensure the reopening is phased in a way that eases concerns that residents may have. To provide feedback, residents can visit https://www.chicago.gov/coronavirus/reopeningsurvey to complete a short survey.
The "Protecting Chicago" framework comprises five phases, and Chicago has already transitioned from phase one (Strict Stay-at-Home) to phase two (Stay-at-Home):
PHASE ONE: STRICT STAY-AT-HOME – Limit the amount of contact with others; goal is to limit interactions to rapidly slow the spread of COVID-19
• Essential workers go to work; everyone else works from home
• Stay at home and limit going out to essential activities only
• Physically distance from anyone you do not live with, especially vulnerable friends and family
PHASE TWO: STAY-AT-HOME – Guard against unsafe interactions with others; goal is to continue flattening the curve while safely being outside
• Essential workers go to work; everyone else works from home
• Stay at home as much as possible
• Wear a face covering while outside your home
• Physically distance from anyone you do not live with, especially vulnerable friends and family
PHASE THREE: CAUTIOUSLY REOPEN – Strict physical distancing with some businesses opening; goal is to thoughtfully begin to reopen Chicago safely
• Non-essential workers begin to return to work in a phased way
• Select businesses, non-profits, city entities open with demonstrated, appropriate protections for workers and customers
• When meeting others, physically distance and wear a face covering
• Non-business, social gatherings limited to less then 10 persons
• Phased, limited public amenities begin to open
• Stay at home if you feel ill or have come into contact with someone with COVID-19
• Continue to physically distance from vulnerable populations
• Get tested if you have symptoms
PHASE FOUR: GRADUALLY RESUME – Continued staggered reopening into a new normal; goal is to further reopen Chicago while ensuring the safety of residents
• Additional business and capacity restrictions are lifted with appropriate safeguards
• Additional public amenities open
• Continue to wear face covering and physically distance
• Continue to distance and allow vulnerable residents to shelter
• Get tested if you have symptoms or think you have had COVID-19
PHASE FIVE: PROTECT – Continue to protect vulnerable populations; goal is to continue to maintain safety until COVID-19 is contained
• All businesses open
• Non-vulnerable individuals can resume working
• Most activities resume with health safety in place
• Some events can resume
• Set up screenings and tests at work or with your family
• Sign up for a vaccine on the COVID Coach web portal