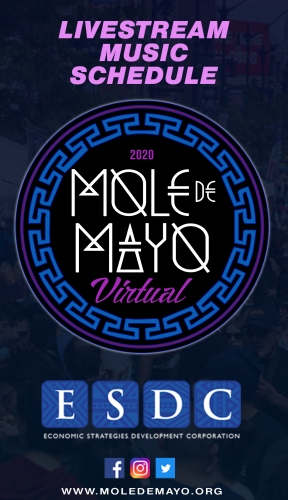 Pilsen-based nonprofit, Economic Strategies Development Corporation (ESDC) announces its livestream music performance lineup and list of participating local restaurants featuring their specialty mole dish at this year's Virtual Mole de Mayo event, May 22-24. All are invited to log on to Mole de Mayo's Facebook page www.facebook.com/moledemayo/live. One of the first outdoor festivals to kick off the summer, Mole de Mayo Festival postponed its 11th annual celebration to next year due to the coronavirus pandemic and instead will feature performances from musicians participating from their homes across Chicago, New York, California, Mexico, and Peru.
To enhance further the virtual Mole de Mayo experience, local neighborhood restaurants will prepare a specialty mole dish in their take-out menu for the three-day weekend event. To support the Virtual Mole de Mayo event, viewers can donate to 17 musicians to their virtual tip jars and place their pre-orders from nine participating restaurants to secure their specialty mole dish and dessert from two churro spots.  In between acts, viewers can do some online shopping at the mercadito featuring hand-crafted jewelry or accessories made by local artisans. Everything you need to know can be found on moledemayo.org.
2020 Virtual Mole de Mayo Music Schedule and Lineup
** FRIDAY MAY 22 **
5 PM Mario Lopez "El Ronco" (from Zacatecas, Mexico)
6 PM DJ RhythmMaster Rudy
7 PM La Lá (from Perú)
8 PM SOULPHONETICS
10 PM Cumbia Machin (from California)
** SATURDAY MAY 23 **
5 PM Bumbac Joe
7 PM Bang Data (from California)
8 PM Rebel Diaz (from NY & Chicago)
9 PM Kuye (from NY) 
** SUNDAY MAY 24 **
5 PM El DJ Rebel X a.k.a. Victor M. Montañez
8 PM Ampersan (from Mexico)
9 PM Son Rompe Pera (from Mexico)
Participating restaurants include La Esperanza, Yvolina's Tamales, Mole Village, Don Churro, D'Nuez, Luna, Azul 18, Señoritas Cantina, La Cecina, and Xurro Factory. Prices range from $1 to $15.25. A typical dish includes mole with chicken served with rice and new varieties such as chilaquiles with mole, churro with mole, and chicken wings with mole. Call restaurants ahead for hours of operation, pickup, delivery, and payment method. Visit moledemayo.org for restaurant information.