By: Ashmar Mandou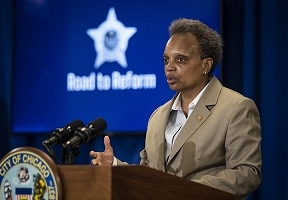 City Council approved various police reforms Wednesday afternoon that would now allow for anonymous complaints to be investigated, ending the requirement of destroying disciplinary records, preventing the names of complainants from being revealed to officers in a bid to create accountability and transparency within the Chicago Police Department.
"For years, I have fought for reforms that would further ensure accountability and transparency at every level of the police department. As mayor, I have not only prioritized these efforts but doubled down on our reform commitments, which is why today's ruling represents such a critical step forward in our path toward building a stronger police department and creating a safer Chicago for all," said Mayor Lightfoot. "Today's historic win represents years of efforts to ensure our Chicago's police union contracts represent the values of our officers and the residents they serve. We will continue fighting for these same reforms as well as other measures in our ongoing negotiations with the FOP."
The approval by City Council comes after years of negotiating with the police supervisors' unions on reform measures that the mayor has campaigned since she led the Police Accountability Task Force (PATF). In addition, the City and union resolved a host of issues through bargained agreements. The terms approved on Wednesday echoes genuine input from the unions and efforts by the City to ensure the agreement strikes a balance between accountability, transparency and supervisors' needs for reasonable procedural safeguards.
"These reforms and new measures represent not only the values of our city but also those of the Chicago Police Department," said Chicago Police Superintendent David O. Brown. "The first step to building trust between officers and the communities they serve is ensuring accountability and transparency is reflected within our police contracts. Today's passage by City Council will ensure just that."
The changes will now include investigations into anonymous complaints against police supervisors. For the last 40 years, the governing contracts excluded investigations of potentially meritorious complaints of misconduct solely because they were anonymous. Both the PATF report and the Department of Justice's (DOJ) findings on CPD noted that this provision in police contracts had not only discouraged the reporting of officer misconduct, but also reaffirmed fears of retaliation for reporting complaints against police officers. By ensuring that the City has the power to investigate such complaints, the latest measure aligns CPD with other major police departments from across the nation.
"This is a historic win for not only Chicagoans but the men and women of the Chicago Police Department," said Ald. Chris Taliaferro, (29th Ward), Chair of the Public Safety Committee. "For years, Mayor Lightfoot has devoted her career to implementing real reforms within the police department and today is a testament to her commitment and renowned leadership on this issue."