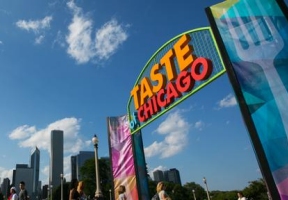 El Departamento de Asuntos Culturales y Eventos Especiales (DCASE) anunció el reinventado "Taste of Chicago To-Go" del 8 al 12 de julio que aún permitirá a los amantes de la comida disfrutar de una de las tradiciones de verano más queridas de la ciudad. Taste of Chicago To-Go contará con una lista de programas públicos gratuitos que incluyen demostraciones de cocina en línea y eventos virtuales de música y baile, y una serie de comidas "Comidas de la comunidad" de restaurantes del vecindario y camiones de comida para organizaciones sin fines de lucro que sirven a trabajadores de primera línea y de atención médica y organizaciones comunitarias y una guía de restaurantes locales. La exhibición de los 42 restaurantes participantes de este año está disponible en línea, junto con el calendario de eventos nuevos y reinventados, en TasteofChicago.us. Y si está buscando música, no se pierda la serie de música "Millennium Park at Home", incluida la Programa del 9 de julio con The Braided Janes y Jon Langford La música comienza a las 6 pm en youtube.com/ChicagoDCASE.
Taste of Chicago To-Go Schedule
Ver todos los programas en youtube.com/ChicagoDCASE
Miércoles 8 de julio
Mediodía
Demostración de cocina: el chef Carlos Gaytan de Tzuco prepara pan plano de aguacate
5: 30-7 p.m.
SummerDance in Place: Bollywood y Bhangra con Bollywood Groove y DJ iLLEST
Una nueva edición en línea de la tradición de baile social favorita de Chicago. Este programa también transmite y transmite en WTTW Prime (11.2).
Jueves 9 de julio
Mediodía
Demostración de cocina: el chef Maya-Camille Broussard de Justice of the Pie prepara pastel de limón y lima
6-7: 30 p.m.
Millennium Park at Home: Serie de música con The Braided Janes y Jon Langford
Viernes 10 de julio
Mediodía
Demostración de cocina: la chef Jessica Romanowski de Care Kitchen Chicago prepara galletas de pan con calabacín y chispas de chocolate
Sábado 11 de julio
Mediodía
Demostración de cocina: el chef Darnell Reed de Southern Kitchen de Luella prepara Salsa Con Queso
Domingo 12 de julio
Mediodía
La chef Sarah Grueneberg de Monteverde prepara Pasta Fredda con Pesto de hierbas de verano
Los participantes de Taste of Chicago To-Go
Apoye a sus restaurantes locales favoritos y camiones de comida en TasteofChicago.us