By: Ashmar Mandou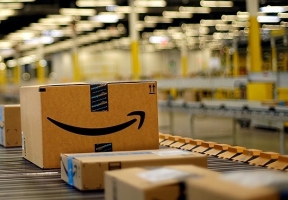 Town of Cicero President Larry Dominick announced on Wednesday that Cicero has been selected as the newest location for new Amazon facilities. "Cicero has become one of the most popular destinations for the building of new businesses and new industries, and for the expansion of existing business chains," said President Dominick.
In an effort to alleviate the tax burden on Cicero residents, Amazon will bring two fulfillment centers, a move that will generate business real estate tax revenues and produce hundreds of new job opportunities for the Town of Cicero. According to President Dominick, Amazon intends to employ more than 23,000 full and part-time workers in Illinois, plans to hire 15,000 more works to staff fulfilment centers.
The Amazon fulfilment center, which processes online orders from its website, will be located in two 575,000 square feet warehouses operated by Bridgepoint 290 Partners and located at 1400 S. Laramie Avenue. Dominick negotiated the expansion of Bridgepoint to Cicero with the opening of their first location in 2017 and the inauguration of a second location that opened in 2018.
"We have welcomed many new major retail businesses to Cicero including Walmart, Menards, Break Through Beverage (formerly Wirtz Beverage), Bimbo Bakery, Sonic Restaurant, Fuller's Car Wash and CubeSmart storage, to just name a few. They have all chosen Cicero because of the benefits that the Town's location offers," said President Dominick.
Dominick said the new businesses will not only generate new real estate property tax revenues that will reduce the tax burden on residents, but will also create new jobs and employment opportunities for Cicero's residents.
"I understand that Amazon is already advertising for the new jobs that their fulfilment warehouse locations will be creating," Dominick said. "The fact that these major national companies have selected Cicero as their new location is a testament to the success we are enjoying as a community in making the Town of Cicero a much sought-after destination."
Dominick said he had several meetings with Amazon representatives during the past year. And while Cicero touted its many advantages, Dominick said no incentives were requested or given to seal Amazon's site selection decision. "The taxpayers are not paying to get these businesses. These businesses want to be here," Dominick said.