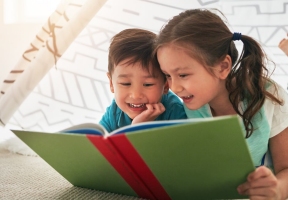 The Illinois State Board of Education (ISBE) released the third year of data for the Kindergarten Individual Development Survey (KIDS), showing two consecutive years of increases in kindergarten readiness. The KIDS data collected in fall 2019 show 29 percent of students entered kindergarten meeting readiness benchmarks in all three developmental areas, up from 26 percent in 2018 and 24 percent in 2017. The increases in kindergarten readiness follow the state's historic investments in early childhood education. Governor JB Pritzker's fiscal year 2020 budget added an additional $50 million for the Early Childhood Block Grant (ECBG) to increase the quality of early childhood programming and expand access for Illinois' youngest learners. Gov. Pritzker's FY 2021 budget maintained this historic funding level for the ECBG at $543.7 million.
Among the 118,854 kindergarten students rated on all 14 required measures in fall 2019:
• 29 percent demonstrated readiness in all three developmental areas, up from 26 percent in 2018 and 24 percent in 2017;
• 37 percent did not demonstrate readiness in any developmental area, down from 39 percent in 2018 and 42 percent in 2017.
The 2019 KIDS data show steady improvements in each of the three developmental areas:
• 56 percent demonstrated readiness in social and emotional development, up from 53 percent in 2018 and 49 percent in 2017.
• 47 percent demonstrated readiness in language and literacy development, up from 46 percent in 2018 and 44 percent in 2017.
• 35 percent demonstrated readiness in math, up from 33 percent in 2018 and 30 percent in 2017.
Learn more about KIDS at www.isbe.net/kids.