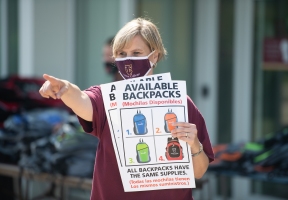 Triton College held its third annual Backpack Give Back Event Saturday, Aug. 8, 2020, 10 a.m.-noon. A collaborative effort with West40 ISC #2, and supported by college faculty and staff, free backpacks filled with school supplies were given away to area families.  "This is the third year we have hosted Backpack Give Back, but this year is so important as many of our local families' were impacted by the coronavirus pandemic," said Audrey Jonas, Director, Public Affairs and Community Relations. "There are many different ways the college continues to be a resource for our community, and we're pleased to be able to assist with access to much needed school supplies." 
The coronavirus pandemic also impacted how the backpacks were distributed. This year's event was converted into a "drive-through," where attendees were able to receive backpacks without leaving their vehicles, ensuring physically distanced interaction. Attendees without vehicles were also served in a socially distanced mask-enforced walk-up line.  "I'm pleased that we were able to take an innovative approach to serve our students and community members," said Mary-Rita Moore, Triton College President. "We all are adjusting with some changes to offer community events, such as Backpack Give Back, that enable the college to assist our community members much like we've done in the past."  The college exceeded its plan to distribute 1,000 backpacks, providing 1,400 backpacks to community families.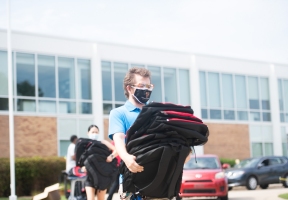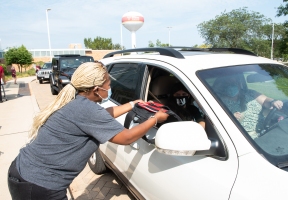 Caption Photo Top: Jodi Kowlow Martin, Ph. D, Triton College, Vice President of Enrollment and Student Affairs, directs traffic flow at the college's third annual Backpack Give Back event. Families were asked to remain in their vehicles and drive through campus to a specific distribution location to receive backpacks.
Caption Photo Bottom Left: Triton College employees gather backpacks filled with school supplies to distribute to families waiting in drive-through lines on campus during the third annual Backpack Give Back event.
Caption Photo Bottom Right: A Triton College employee gives a local student a free backback fill with school supplies during the college's third annual Backpack Give Back event as families waiting in vehicles line up.