By: Ashmar Mandou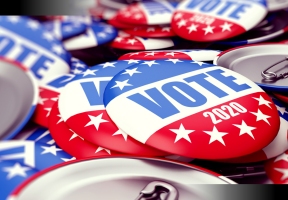 The 2020 elections are just a few days away in Illinois, and whether you have plans to do mail-in ballots, vote early, or head to the polls on Election Day on November 3rd, we have important information to assist you as you make your voice heard.
How to vote in Illinois
There are three ways to vote in Illinois, with details on each listed below:
1: You can request a mail-in ballot and return it by either sending it through the U.S. Postal Service or by hand delivering it to your local election authority at an approved drop-off location.
2: You can vote early in person at an early voting location in your jurisdiction, open now through Election Day on Nov. 3.
3: On Election Day, you can vote in person at your precinct's specific polling place or, if your local election authority allows, at another voting location within your jurisdiction that will be open on Nov. 3.
How to vote on Election Day
If you prefer to cast your ballot on Election Day, in most counties in Illinois you have just one option: your designated polling place. If you don't know where that is, enter your address below to find on www.chicagoboardelections.gov or www.cookcountyclerk.com. New this year, all early voting sites in Chicago will remain open on Election Day for all voters in the city, as will six locations in suburban Cook County.
When are polls open on Election Day?
Polls open at 6 a.m. statewide, and will stay open through 7 p.m. But remember – if you are IN LINE when polls close, you can still vote! So if you're rushing to your polling place at the last minute, don't worry if you see a line – and don't let anyone try to dissuade you from casting your ballot. 
See who's on your ballot in Illinois
There are so many important races happening in Illinois this election, so we've created a tool to help you learn who your representatives are – and who's running against them – before you vote. For a complete sample ballot, including all local and judicial races as well as referendum questions, be sure to visit your local election authority's website, www.chicagoelections.gov or visit www.cookcountyclerk.com