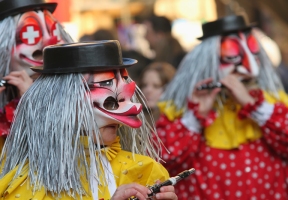 Recopilado por Ashmar Mandou
Artes en la Oscuridad
La Ciudad de Chicago ofrecerá un programa seguro y espectacular de eventos de Halloween – se recomienda usar disfraz y es requisito usar mascarilla. A continuación algunos de los eventos planeados:
• Asiste al desfile de Halloween de Arts in the Dark al Revés, experiencia artística única en su clase, el 31 de Oct. con un desfile inverso, el entretenimiento está parado y los asistentes al desfile pasan y disfrutan de las artes escénicas y visuales desde la seguridad de su propio automóvil.
• Celebra Halloween de forma segura con pop-ups especiales de trick-or-treating socialmente distantes, en barrios de toda la ciudad, del 26 al 31 de octubre.
El Desfile de Halloween de Arts in the Dark al Revés tendrá lugar en Washington Park y para más información, visite www.artsinthedark.org.
Día de los Muertos
El Día de los Muertos coincide con Halloween, pero la querida fiesta mexicana es una celebración única en su clase. El Museo Nacional de Arte Mexicano es el lugar perfecto para disfrutarla, con una exhibición anual dedicada a las costumbres y tradiciones del Día de los Muertos. Aunque el museo está temporalmente cerrado, puede registrarse para un recorrido virtual de la exhibición dirigido por un docente, nuevas instalaciones, pinturas y grabados creados por artistas locales. Presentarán también una versión virtual de su anual Día de los Muertos: Baile del Amor Nunca Muere, el 7 de Nov. Disfrute una velada a cockteles, música en vivo, maquillaje, demostraciones de cocina y más. Para más información, www.nationalmuseumofmexicanart.org.
Caja de Música de Horrores en Autocine
La Caja de Música de Horrores es usualmente un maratón de 24 horas de películas aterradoras, emocionantes y escalofriantes en Music Box Theatre, pero este año la celebración de películas de miedo será en un autoteatro todo el mes. Puede esperar proyecciones nocturnas y funciones dobles durante todo el mes de octubre en Chi-Town Movies Drive-In acompañado de introducciones especializadas, contenido previo al espectáculo, sección de preguntas y respuestas del cineasta y más sorpresas espeluznantes. El horario incluye películas convencionales como La Pesadilla de la Calle Elm y Carrie, junto con otras aterradoras selecciones como la película de horror del cine mexicano de 1933, La Llorona y el blacula clásico blaxploitation de los 70. Para confirmar el programa y los precios, visite www.musicboxtheatre.com