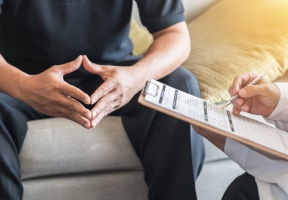 By: Ashmar Mandou
According to the National Survey on Drug Use and Health (NSDUH), two in five Latinos struggled with illicit drugs, seven and nine struggled with alcohol use, and one in six struggled with illicit drugs and alcohol. Unfortunately, substance abuse continues and even increases as we live through the COVID-19 pandemic and organizations, such as PCC Community Wellness Center are diligently working to improve the lives for the medically underserved community through high quality, affordable, accessibility to health care and support services. "We provide services for those struggling with drug dependency and we are committed to serving the needs of all people in all stages of life," said Katie McDonough, MD, Medical Director Chemical Dependency Services of PCC Community Wellness Center. "PCC Community Wellness Center are in areas where there are high incidence cases of drug and alcohol dependency," said Dr. McDonough. "We strive to set goals that will work for every individual who walks through our doors and equip them with the tools to live a healthy life."
The PCC Community Wellness Center provides safe treatment for adults with addictions through their Chemical Dependency Program. The center can help with less heroin, prescription pain pills, alcohol, cigarettes, and other substances. PCC meets with an individual wherever they are in their recovery process and designs a program to meet the individual's goals. PCC also provides services in:
• Evaluations for adults who use opioids and substances
• Treatment, including Suboxone, Vivitrol, or buprenorphine
• Treatment for pregnant patients
• Counseling
• Access to ongoing care at a PCC health center
A prospective patient can visit PCC's Chemical Dependency Program. You will receive the first doses of medicine (induction) at either PCC Walk-In Wellness Center at West Suburban Medical Center or at PCC Melrose Park Family Health Center. After treatment is established, you may be able to have continued treatment at another PCC site. "There is such a stigma when it comes to substance abuse, most don't share their burden with their family members, keeping their struggle to themselves," said Dr. McDonough. "Our goal is to take away the stigma surrounding substance abuse in order to have our patients lead a healthy lifestyle and we do that by providing privacy and providing an environment where they feel safe and comfortable."
For more information on the services PCC Community Wellness Center, visit www.pccwellness.org.