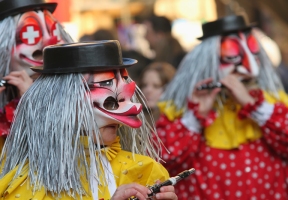 Compiled by Ashmar Mandou
Arts in the Dark
The City of Chicago will be hosting a safe and spooktacular line-up of Halloweek events — costumes are encouraged, masks are required. Check out some of the planned events:
• Attend the Arts in the Dark Upside-Down Halloween Parade, a one-of-a-kind artistic experience on Oct. 31. With a reverse parade, the entertainment is stationary and parade-goers drive by and enjoy performances and visual arts from the safety of their own car.
• Celebrate Halloween safely with special socially distant trick-or-treating pop-ups in neighborhood all over the city from Oct. 26 through 31.
The Arts in the Dark Upside Down Halloween Parade will take place at Washington Park and for more information, visit www.artsinthedark.org.
Día de los Muertos
Day of the Dead coincides with Halloween, but the beloved Mexican holiday is a one-of-a-kind celebration. The National Museum of Mexican Art is the perfect place to experience it, with an annual exhibit dedicated to Day of the Dead customs and traditions. While the museum is temporarily closed, you can register for a docent-led virtual tour of the exhibit's new installations, paintings, and prints created by local artists. They'll also be hosting a virtual version of their annual Día de los Muertos: Love Never Dies Ball on Nov. 7. Enjoy an evening of cocktail-making, live music, face painting, cooking demos, and more. For more information, www.nationalmuseumofmexicanart.org.
Music Box of Horrors at the Drive-In
The Music Box of Horrors is usually a 24-hour marathon of frightening, thrilling and chilling movies at the Music Box Theatre, but this year the celebration of scary films will take over a drive-in theater for an entire month. You can expect late-night screenings and double features throughout the entire month of October at the Chi-Town Movies Drive-In, accompanied by specialized intros, pre-show content, filmmaker Q&As vendor and more spooky surprises. The schedule includes mainstream fare like A Nightmare of Elm Street and Carrie alongside more obscure selections like the 1933 Mexican horror flick La Llorona and '70s blaxploitation classic Blacula. To view the schedule and price, visit www.musicboxtheatre.com