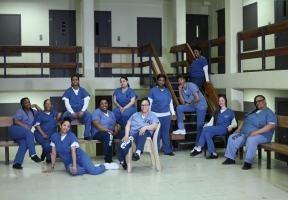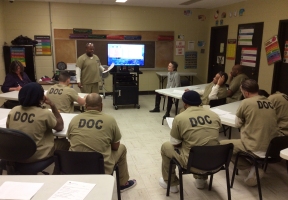 International Children's Media Center (ICMC) organización cultural y educativa sin fines de lucro, dedicada a transformar la forma en que gente de todas las edades utiliza, ve y actúa con los dispositivos digitales y los medios de comunicación, fue invitado a la Cárcel del Condado de Cook para actividades extracurriculares por primera vez, desde el principio de la pandemia. Una vez a la semana, los detenidos inscritos en Sheriff's Anti-Violence Effort (S.A.V.E.) [Esfuerzos Anti-Violencia del Alguacil] verán y discutirán películas de corto metraje multiculturales premiadas de todo el mundo. Para mantenerse dentro de los cánones de salud pública para evitar el contagio del COVID-19, El Dept. de Correcciones (DOC) del Condado de Cook, tomó medidas protectoras como juntas con el distanciamento social y las sesiones con un máximo de 10 participantes. Adicionalmente se requiere el uso de mascarillas e instructores de ICMCtomará la temperatura a los asistentes antes de entrar al lugar.
Creado por la Directora Ejecutiva de ICMC, Nicole Dreiske, "WorldScene" espera ayudar a cultivar una agencia personal y la autodeterminación entre los detenidos, mientras empodera a las personas a comprometerse críticamente con los medios de comunicación que utilizan. El programa de inmersión fílmica de 18 semanas promueve una discusión de 40-50 películas cortas con temas como una resolución de conflictos no violenta, desarrollar empatía y formar conexiones positivas con amigos, familiares y miembros del sexo opuesto. Esta es la cuarta colaboración entre ICMC y el Departamento de Correcciones del Condado de Cook. El programa inicial, lanzado en el 2017-18, trabajó con 48 jóvenes en el Esfuerzo Antiviolencia del Alguacil; 2018-19 vio un festival comisariado exclusivamente por reclusas de alta y media seguridad, y un festival triunfante "World Scene" comisariado por detenidos en el Nivel de Veteranos en el 2019-20.
Créditos: El Festival de Cine WorldScene es apoyado por Academy of Motion Picture Arts and Sciences, El Fondo Albert Pick, Jr. Seabury Foundation, El Fondo Richard H. Driehaus en la Fundación MacArthur, Howard Conant y Conant Family Foundation.