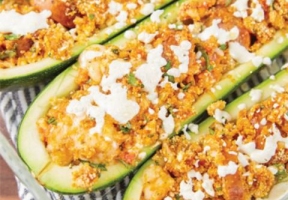 Ingredients
4 large zucchini, halved lengthwise
2 tsp. extra-virgin olive oil
4 links chicken sausage links, thinly sliced
1/2 c. italian breadcrumbs
3/4 c. shredded mozzarella
1/2 c. shredded fontina
2 cloves garlic, minced
1/4 c. chopped fresh basil
Directions
1. Preheat oven to 350 degrees F. Score zucchini (like you're dicing an avocado) and scoop out insides into a large bowl.
2. In a large skillet over medium heat, heat oil. Add chicken sausage and cook until seared, 6 minutes.
3. Transfer to a large bowl and add breadcrumbs, 1/2 cup mozzarella, fontina, garlic, and basil.
4. Spoon mixture into zucchini and top with remaining 1/4 cup mozzarella.
5. Bake until zucchini is tender and cheese golden, 15 minutes.