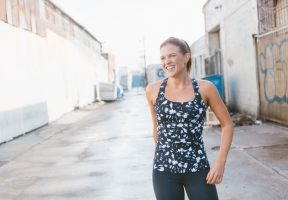 After Halloween, let's face it, the holiday season passes by like a bullet train. This year more than ever we need to start preparing for it and take a holistic approach.  Kit Rich, celebrity trainer and founder of KICHGO gives tips on how to approach the season regarding workouts, meals, and meditation.  She also offers a complimentary workout and one of her go-to holiday pies which she alters slightly for a healthier option. Kit's philosophy is the best time to plan for the holiday season is now because you're going to be so busy. Most importantly, she believes it's important to stay consistent and of course, enjoy, enjoy, enjoy! 
Workout
Tip: Plan weekly
1. At the beginning of each week line up which workouts you'll be doing so you don't waste time. Do your research beforehand.
2. Add those times to your calendar. Once they are entered, think of them as important as a doctor's appointment or business meeting.
3. Goal is to work out for 30 minutes to 1 hour – 3 days per week
4. Find 3 routines for 3 days per week. You will repeat these routines for two weeks. You are in essence doing each routine twice. The goal is to see if you improve in the second week. Do you have better strength? See an increase in speed? Have more range of motion?
5. Full body workout–because you are only working out three days, make it fun, exciting, and easy on yourself—lower body, upper body, full body.  
6. If you have time on your off days, try to go for a 30-minute walk or 3-mile run/jog.
Meals
Tip: Indulge don't overindulge
1. Enjoy the holiday food, but try not to go into the meal starving because you'll more than likely eat more than you should.
2. Drink a few glasses of water before you eat. You will feel fuller so you are less likely to overindulge.
3. Flavored water is a great option—mint, cucumber, lemon, lime—adding any of these will help satisfy a lot of cravings.
4. Always remember, your eyes are often bigger than your stomach.
5. If you plan on drinking alcohol, drink a glass of water in between each cocktail.
6. Chew an extra 10 times for every bite. You'll find that you appreciate your food more and will feel satiated. 
Meditation
Tip: Be self-aware
1. Holidays are always stressful—people often feel like they haven't accomplished what they wanted, being around so much family often makes them anxious, and external stressors are impacting everyday life such as Covid-19.  It's important to watch out for triggers.
2. Every morning practice 5-10 minutes of deep breathing.
3. Make a conscious decision to implement that same method of breathing when you feel triggered. It will help calm you.
4. It's important to look at health holistically. The thoughts going through your head and your reactions to them and your perspective as well.