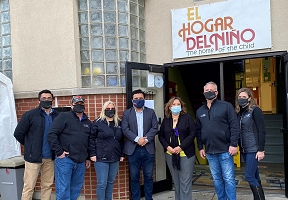 The Alden Network stepped in to save what almost would have been the end of a 50-year tradition. Just a week before Thanksgiving, the Alden Network hosted a big turkey drive donating 200 turkeys to the families of the El Hogar Del Nino Childhood Center.
Staff members of El Hogar Del Nino Childhood Center found themselves in a bind when their annual turkey drive was in jeopardy of being canceled due to the pandemic.
Typically, they partner with a major grocery store chain to sponsor the event. This year, their sponsor backed out at the last minute, leaving the staff members without alternate resources to host the event for their families.
Once members of The Alden Network team got wind of it, they immediately agreed to step in.
"We pride ourselves on serving the community and giving back, so once I heard about their situation, I didn't think twice, and we jumped on the opportunity to host the event," said Janine Schoen, Vice President of Policy and Public Relations.
The event had a successful turnout as all the families of the childhood center received a turkey.
"We could not have done this without Alden," said Matea Varvodic, Director of Development for El Hogar Del Nino. "It's such a joy to know that 200 of our families are going to have a wonderful Thanksgiving feast because of them."
Not only was the event successful in that all the children's families were served, but Alderman Byron Sigcho-Lopez attended in support of the event.
"This is a 50-year tradition, and we thought it would have been broken, so we're grateful that the Alden team stepped in this year," said Lopez.
The turkey drive was the launching initiative of many programs Alden has planned this holiday season. The corporation is in the midst of their annual Giving Back to The Communities Program, which focuses on serving the community and families in need during the holiday season.