By: Ashmar Mandou
First Latina to Hold Cook County Circuit Clerk Position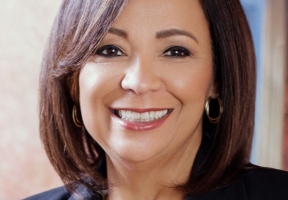 Democratic State Senator Iris Y. Martinez made history by becoming the first Latina elected Cook County circuit court Clerk, winning the race Tuesday against Republican Barbara Bellar. Senator Martinez, who garnered 71.6 percent of the vote, campaigned on government reform and ending the "neglect, mismanagement, and corruption that has plagued the office of the Cook County Clerk of the Circuit Court for decades," said Senator Martinez in the months leading up to Election Day. Martinez supported banning political contributions from employees and vendors doing business with the office, digitizing the office's operations and addressing the current backlog of cases.
The Office of the Cook County Circuit Court is responsible for maintaining the judicial records for one of the nation's largest united court systems. Martinez, a chairwoman of the Democratic National Convention Hispanic Caucus, promised to clean up and regenerate the clerk's office. Martinez also stated she will initiative a performance audit and work to make the clerk's office subject to Freedom of Information Act requests.
Iris Y. Martinez, currently Illinois State Senator representing the 20th District, has served on the Illinois State Senate since 2003. Her election marked the first time a Latina had been elected to the State Senate in Illinois history. She made history by serving as Assistant Majority Leader from 2007-2008 and was named Majority Caucus Whip in 2013 and became Assistant Majority Leader again in 2018. Senator Martinez used her position to advocate for affordable housing, expanding health care access and ensuring seniors and the disabled receive proper care.
Senator Martinez has worked on initiatives to keep children safe and annually hosts a Family Wellness and Back to School Fair, where children can receive health screenings, dental checkups, immunizations and backpacks. Essential services are also available for adults. Martinez was born and raised in Chicago's West Town community. She resides in the city's Albany Park neighborhood and has a daughter, Jacklyn Nicole. Her district includes some of Chicago's most diverse neighborhoods including Albany Park, Avondale, Belmont, Cragin, Hermosa, Humboldt Park, Logan Square and Portage Park.
Photo Caption: Senator Iris Y. Martinez wins Cook County Circuit Court Clerk becoming first Latina to hold that position