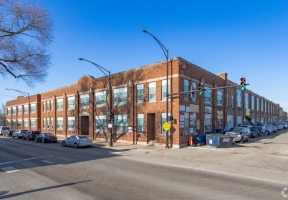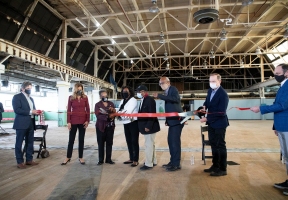 Por Ashmar Mandou
Funcionarios de la ciudad se unieron para la ceremonia formal del corte de cinta de The Terminal, especiosa propiedad que pronto será transformada en un campus de espacio de trabajo urbano para "creativos e innovadores" diseñado para encajar con la estética existente del vecindario de Humboldt Park.
The Terminal está compuesta de tres almacenes en el oeste de Humboldt Park y originalmente estaba ocupada por Pyle-National Company desde 1916, donde se fabricaban faros y otros equipos de iluminación y eléctricos para uso del ferrocarril, así como luces exteriores para prominentes edificios como el Wrigley Building, Tribune Tower, Soldier Field y Rose Bowl Stadium. El desarrollador del proyecto IBT Group, LLC, planea una construcción del espacio de 150,000 pies cuadrados en 6.9 acres, que se espera cueste más de $ 50 millones.
"The Terminal va a ayudar a cambiar el panorama del barrio, borrará el vacío de esos lotes vacantes y ayudará a transformar el área", dijo la Concejal Emma Mitts (Distrito 37). "Quiero agradecer al equipo urbanizador por preservar la autenticidad de la propiedad, creando un campus de espacio de trabajo urbano para las personas creativas del área".
The Terminal en Humboldt Park es el último proyecto de un corredor INVEST Sur/Oeste. El programa enfoca las herramientas de planificación y financiación a lo largo de corredores específicos que históricamente han servido como puntos focales para la actividad peatonal, comercio minorista, servicios, transporte, espacios públicos y comodidades de calidad de vida para los residentes locales.
"La transformación de esta propiedad vacía en un entorno de trabajo de espacio abierto de última generación ciertamente inspira creatividad e innovación en el sector oeste", dijo Andrea L. Zoop, Presidente & CEO de World Business Chicago. "The Terminal es un gran ejemplo del tipo de inversión transformadora que puede crear empleos y oportunidades para todos los residentes de Chicago".
"Aunque creada hace cerca de tres años, la tesis para el proyecto es validada hoy en día como un ambiente donde la gente puede trabajar sin peligro en un ambiente de campus, brindando un ambiente accesible sin la necesidad de elevadores y poniendo al alcance múltiples espacios al aire libre para trabajar y para relacionarse", dijo el desarrollador del proyecto, Gary Pachucki, IBT Group, LLC. "Este proyecto se realiza solo bajo el compromiso de Ari Glass y Joe Mansueto, quienes tuvieron la visión que otros no tuvieron.