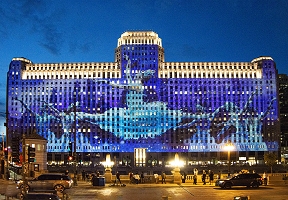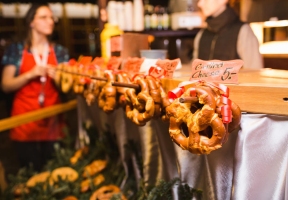 Recopilado por Ashmar Mandou
El Cascanueces
Arte Virtual en el MART
Con la cancelación del compromiso anual de The Joffrey Ballet de la versión críticamente aclamada de Christopher Wheeldon de El Cascanueces en el 2020, el Joffrey se complace en anunciar una miríada de presentaciones virtuales festivas e interactivas en la temporada navideña, incluyendo el debut de una reciente exhibición digital animada como parte de Art on theMART de Chicago – la proyección más grande de arte digital permanente del mundo. La presentación del Cascanueces para Art on theMART, con la adorada música de Tchaikovsky, sigue hasta el 30 de diciembre a las 7:00 y 7:30 p.m. en afiliación con el Departamento de Asuntos Culturales y Eventos Especiales de Chicago.
Christkindlmarket
Mercado Virtual hasta el 31 de Diciembre
El olor de nueces rostizadas, pretzels frescos, bratwurst y vino con especies, el sonido de la música y el brillo de los adornos navideños en una atmósfera acogedora – esta es la auténtica experiencia del Christkindlmarket estilo alemán. Hasta el 31 de diciembre, gente de toda la nación podrá disfrutar la encantadora tradición desde la comodidad y seguridad de sus casas a través del primer Christkindlmarket virtual "Home for the Holidays", presentando un mercado en línea, eventos familiares-amistosos y actividades interactivas divertidas. Visite Christkindlmarket.com.
Paisaje de Luz
Jardín Botánico de Chicago
El Jardín Botánico de Chicago presenta su exhibición anual de luces navideñas, dando a los invitados razones de sobra para visitar la reserva forestal durante la temporada navideña. Situada a lo largo de un camino de una milla, la experiencia nocturna presenta una serie de instalaciones para explorar, incluido un túnel de 110 pies formado por 100,000 luces y un grupo de árboles adornados con bombillas que "entonan" canciones navideñas. El Paisaje de Luz será en fechas selectas hasta el 3 de enero y puede comprar sus boletos en chicagobotanic.org/Lightscape a precio normal o de fin de semana ($26/$28 para adultos, $14/$15 para niños).
Luces en el Zoo
Lincoln Park Zoo
La época más bonita del año merece la ocasión más maravillosa del año, así que celebre las navidades con nosotros en ZooLights presentado por ComEd e Invesco QQQ! Esta experiencia navideña festiva, única en su clase, ofrece una tradición familiar alegre en el corazón de la ciudad. ZooLights presentará cientos de luminosas exhibiciones e increíbles actividades de la temporada, todo bajo el resplandor de millones de luces, con admisión reducida para mantener a su familia a salvo. Para boletos o información en general, visite lpzoo.org
Iluminación: Luces Navideñas en The Morton Arboretum
Vea arbolitos en diferentes luces en una reimaginada Iluminación: Arboles de Luces en Morton Arboretum. Diseñada con la seguridad en mente, la nueva experiencia de este año (20-30 minutos) ofrece un espectáculo de color, luces y música sin paralelo que no podrá disfrutar en ningún lugar más. Estará encantado de ver regresar a sus favoritos, reinventados, incluyendo Symphony Woods, Woodland Wonder y Crystal Promenade y cinco exhibiciones recién diseñadas, en un cautivante tunel de luces, un bosque mágico e inspirador lleno de colores deslumbrantes y luces de estrella, y un paisaje lleno de miles de luces moviéndose al compás de una banda sonora musical, todo desde la comodidad de su automóvil. Visite mortonarb.org para más información