Ingredients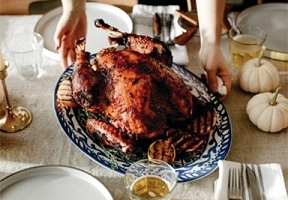 – One 10- to 12-pound turkey
– Kosher salt and freshly ground black pepper
– 2 tablespoons sweet paprika
– 1 tablespoon tomato paste
– 1 tablespoon apple cider vinegar
– 1 tablespoon ground guajillo chiles
– 1/2 teaspoon caraway seeds
– 1/2 teaspoon ground coriander
– 1/2 teaspoon ground cumin
– 1/8 teaspoon cayenne pepper
– 6 cloves garlic, peeled
– Olive oil, for drizzling
– 1 small red onion, peeled and halved
– 1 orange
– 1 lemon
– 1 bunch fresh thyme
– 4 cups chicken broth, or more as needed
– 1/4 cup honey
Directions
1. Dry brine the turkey: Place the turkey in a roasting pan fitted with a rack. Rub the turkey liberally with salt and pepper. Place in the refrigerator, uncovered, 8 hours or up to overnight.
2. Preheat a gas grill for cooking over medium heat (about 350 degrees F).
3. Set the turkey on the counter to take the chill off.
4. Meanwhile, put the paprika, tomato paste, vinegar, guajillo chiles, caraway seeds, coriander, cumin, cayenne pepper and 3 cloves garlic in a food processor and pulse to combine. Add some olive oil just until a thick paste is formed. Taste and season with salt.
5. Stuff the center cavity of the turkey with the onion, orange, lemon, thyme and the remaining 3 cloves of garlic. Rub the turkey generously all over with the spice paste. Tie the legs tightly together with kitchen twine. Tuck the wings underneath the turkey. Add 2 cups chicken stock to the pan and tent with aluminum foil.
6. Place the roasting pan in the center of the grill, directly on the grates. Let cook for 45 minutes.
7. Remove the foil and add 2 cups chicken stock. Close the lid and continue to cook until the internal temperature reaches 145 degrees F, about 35 minutes more.
8. Meanwhile, add the honey to a small bowl. Once the temperature of the turkey reaches 145 degrees F, use a turkey baster to add 1/4 cup pan juices to the bowl with the honey and whisk to combine. Using a pastry brush, glaze the bird all over with the honey mixture.
9. Close the grill and continue to cook until the internal temperature reaches 155 degrees F, another 15 to 20 minutes. Remove the turkey and let rest 30 minutes (the internal temperature will continue to rise to 165 degrees F). Serve!