Ingredients
* 2 2/3 cups (665ml) Massel Chicken Style Liquid Stock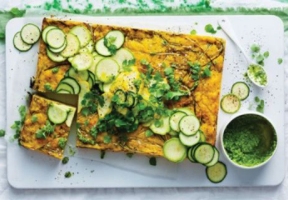 * 2 2/3 cups (665ml) milk
* 1 1/2 cups (255g) instant polenta
* 1/2 cup (40g) finely grated parmesan
* 1/2 cup (120g) fresh ricotta
* 20g unsalted butter
* 3 small zucchinis
* 1 white zucchini, very thinly sliced into rounds (we used a peeler)
* 1 yellow squash, very thinly sliced into rounds (we used a peeler)
* Micro herbs, to serve
Broccoli Pesto
* 150g broccoli, cut into florets
* 1/2 cup firmly packed basil leaves
* 1 small garlic clove, chopped
* 1/4 cup (20g) finely grated parmesan
* Juice of 1/2 a lemon
* 1/2 cup (125ml) extra virgin olive oil
Directions
1. Preheat oven to 200°C. Grease and line a 20cm x 30cm slice pan with baking paper, leaving 5cm overhanging long sides.
2. For the pesto, place all ingredients in a food processor and whiz until smooth. Cover with plastic wrap. Chill until needed.
3. Place stock and milk in a saucepan over high heat. Bring to the boil then, stirring constantly, add polenta in a slow, steady stream. Reduce heat to low and cook, stirring, for 6-8 minutes until thick. Stir in parmesan, ricotta and butter. Season.
4. Using a julienne vegetable peeler or mandoline, slice 2 zucchini into long, thin spaghetti-like strips. Add to polenta mixture with half the pesto and stir to combine.
5. Transfer to prepared pan, and with wet hands, spread out evenly. Bake for 40 minutes or until golden. Cool in pan. Turn out onto a board and drizzle with remaining pesto.
6. Thinly slice the remaining whole zucchini into rounds and scatter over slice with white zucchini, squash and micro herbs. Season and serve warm or cold.