Por: Ashmar Mandou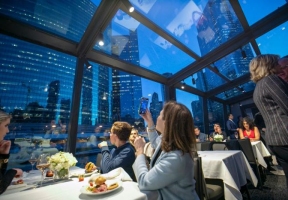 Disfrute de un poco de diversión al aire libre, una comida romántica o dé una vuelta por la hermosa pista de hielo de la ciudad para disfrutar de las joyas arquitectónicas del centro. Aunque este año es un poco diferente, aún hay mucha diversión en la Ciudad. Haga de este Día de San Valentín una ocasión memorable.
Crucero con Cena de San Valentín
Lánzate al agua y disfruta de una experiencia única. Un Crucero con Cena de San Valentín en Chicago seguramente será una velada inolvidable. Disfruta de una cena en el crucero en el Río Chicago. Disfruta la comida con amigos y familiares y empápate de la maravillosa arquitectura de la ciudad. Para boletos y/o información en general, visita https://www.hornblower.com/chicago/valentines-day-premier-dinner-cruise-chicago-river/
Gene y Georgetti
Cada año creamos menús especiales, perfectos para una velada romántica para dos, cual debe ser una fiesta épica de Galentine. Los Chefs Cristiano & Luis han puesto todo su amor en estos platillos disponibles todo el fin de semana de San Valentín, de viernes a domingo. Puede encontrar este menú en línea en www.geneandgeorgetti.com para entrega y para llevar. Gene & Georgetti está abierto para comer en el interior y en el exterior (Estructura de comedor con calefacción y ventilación: Après Genes) entrega y para llevar en Chicago. Horario: martes – jueves 11 a.m. a 9 p.m. y viernes – domingo, 9 a.m. a 9 p.m. El bar del café abre a las 9 a.m., martes-domingo. Gene and Georgetti Chicago está localizado en el 500 N. Franklin St., 312-527-3718.
The Laugh Factory
Laugh Factory presenta un show de comedia interactiva con algunos de los mejores comediantes de Chicago el fin de semana del Día de San Valentín. Usted puede unirse a su audiencia virtual, vía Zoom o directamente en su laptop o televisión utilizando los dispositivos Roku, Apple TV, Amazon Firestick, o Chromecast en su televisión, bajando la app. de boletos Stellar. Para más información de transmisión con nuestro afiliado Stellar Tickets, visite: https://www.stellartickets.com/o/laugh-factory-chicago. Para una lista completa de shows, visite www.laughfactory.com/clubs/chicago.
ChiTown Movies
Disfrute de una experiencia drive-in con ChiTown Movies este fin de semana de San Valentín viendo películas clásicas y de blockbuster desde la comodidad de su propio auto. Desde Wedding Singer a The Notebook y La Dama y el Vagabundo, hay algo para todos. Para la lista completa de películas visite www.chitownfutbol.com/chitown-movies
Patinaje
Manténgase activo al aire libre mientras disfruta con la familia y amigos en varias pistas de patinaje al aire libre cortesía del Distrito de Parques de la Ciudad. También puede hacer una reservación, rentar patines, o disfrutar las vistas escénicas del centro de la ciudad, recorriendo la Cinta de Maggie Daley Park. Vista un abrigo grueso, calcetines calientes y disfrute el día. Para más información, visite www.chicagoparkdistrict.com o visite www.maggiedaleypark.com.