By: Ashmar Mandou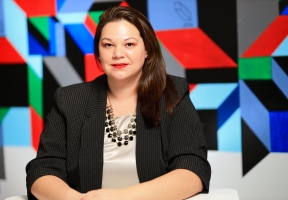 Recently, The Little Village Chamber of Commerce and The Little Village Community Foundation announced the selection of Loretta Ivette Trevino as Executive Director. Trevino has garnered quite the robust experience working for organizations, such as 1871 Chicago and the Illinois Chamber of Commerce, which led to their growth. Trevino now brings her experience to Little Village, where she will oversee staff, operations, and formulate strategic plans to further the mission of The Little Village Chamber of Commerce and Little Village Community Foundation.
Lawndale Bilingual News: Share with us your sentiments regarding your new appointment as Executive Director of The Little Village Chamber of Commerce. 
Loretta Ivette Trevino: I'm very thrilled to join the Little Village Chamber of Commerce (LVCC) and the wonderful team led by women who are making an impact on small business in the community. 
The pandemic continues to bring on an infliction of emotional and mental distress for many across the country.  Specifically, in your new role as executive director what goals have you set forth that you would like to see come to fruition for the community of Little Village?
The immediate goal for small business is to help with access to capital and provide technical assistance. The Little Village business community has suffered from higher rates of COVID-19, higher levels of unemployment, and is generally recognized as being critically underserved. The Little Village Chamber of Commerce has a full team on-site who are here to help pivot, guide and advise businesses through the pandemic to make them bankable, apply and obtain PPP or EIDL. The Little Village Chamber Foundation has launched its Road to Recovery grant program in partnership with the McCormick Foundation that provides micro-grants and technical assistance to small businesses located in Little Village.  To find out more please visit https://lvcfchicago.org/programs/road-to-recovery/ or to enroll text "Beca" to (833) 480-0339 and fill out the enrollment form.  The Little Village Chamber of Commerce and the Little Village Community Foundation will be working diligently to launch and open Xquina later this year. Xquina will be a safe space for the community to gather and engage, collaborate and build relationships.
What advice would you give to youth who aspire to follow in your footsteps?
My advice to youth is to continue to invest in your education. There are plenty of free programs for youth in Chicago that will help you find spark your interest and help you figure out what you are passionate about.  A few programs include: Girls Who Code, Future Founders, Calculated Genius, and Campus 1871. You'll also have access to mentorship in those programs which is extremely helpful when you are starting to build your network.  The Little Village Chamber of Commerce and the Little Village Community Foundation is also very committed to developing young leaders in the community and will launch programming through the Xquina Incubator Cafe later this year.