By: Ashmar Mandou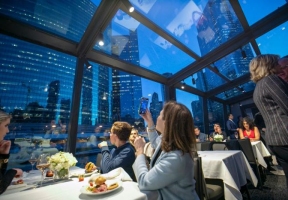 Treat yourself to some outdoor fun, a romantic dinner, or a lap around the City's beautiful ice rink to enjoy downtown gems. Although this year is a bit trickier, there is still plenty of fun to be had around the City. Make this Valentine's Day a memorable one.
Valentine's Day Dinner Cruise
Head to the water for a limited-time experience. A Valentine's Dinner cruise in Chicago is sure to create an unforgettable evening. Experience a plated dinner cruise on the Chicago River. Dine the night away with friends and family and soak in Chicago's stunning architecture views. For ticket and/or general information, visit https://www.hornblower.com/chicago/valentines-day-premier-dinner-cruise-chicago-river/
Gene and Georgetti
Each year we create a specials menu that is as perfect for a romantic evening for two as it is for an epic Galentine's feast. Chefs Cristiano & Luis have put all the love in these dishes that are available all of Valentine's weekend from Friday to Sunday. You can find this menu online at www.geneandgeorgetti.com for delivery + carry out.  Gene & Georgetti is open for indoor dining, outdoor dining (heated & ventilated dining structure: Après Gene's), delivery, and pick-up in Chicago. Hours: Tuesday – Thursday 11a.m., to 9p.m. and Friday – Sunday 9a.m., to 9p.m. The coffee bar opens at 9a.m., Tuesday-Sunday. Gene and Georgetti Chicago is located at 500 N. Franklin St., 312-527-3718.
The Laugh Factory
Laugh Factory presents an interactive comedy show featuring some of Chicago's best standup comedians for your Valentine's Day weekend. You can join their virtual audience via Zoom or stream directly your laptop or television using Roku, Apple TV, Amazon Firestick, or Chromecast device on your television by downloading the Stellar tickets app. For more streaming information with our streaming partner, Stellar Tickets, click here: https://www.stellartickets.com/o/laugh-factory-chicago. For a full list of shows, visit www.laughfactory.com/clubs/chicago.
ChiTown Movies
Enjoy a drive-in experience with ChiTown Movies this Valentine's weekend by watching blockbuster and classic movies from the comfort of your own car. From The Wedding Singer to The Notebook to Lady and the Tramp, there is something for everyone. For the full list of movie showings, head over to www.chitownfutbol.com/chitown-movies
Ice Skating
Stay active outdoors while enjoying a fun time with family and friends at several outdoor ice rinks through the city courtesy of the Chicago Park District. You can also make a reservation, rent skates, and relish in the scenic views of downtown gliding down on the Ribbon at Maggie Daley Park. Grab a heavy coat, warm socks, and make the most of your day. For more information, visit www.chicagoparkdistrict.com or visit www.maggiedaleypark.com.