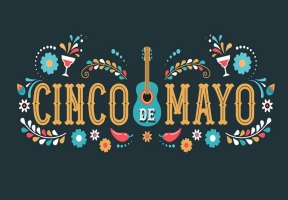 Compiled by Ashmar Mandou
Cicero Cinco de Mayo
The Town of Cicero will host a virtual Zoom Cinco de Mayo event on the Town of Cicero Facebook Page on Wednesday, May 5 from 4 pm until 6pm. The event will broadcast from the Town of Cicero Town Hall front lobby. Unfortunately, because of the pandemic the event cannot be open to the public, but the public can view the event on the Town's Facebook Page, https://www.facebook.com/TownofCicero. Town of Cicero will feature Town officials, local officials, officials from High School District 201 and Elementary School District 99, as well as entertainment from both schools.
North Riverside Park Mall
North Riverside Park Mall has announced that Circus Vazquez will be performing on-site shows at the mall from April 30 – May 24, 2021. With more than 50 years of experience entertaining and sharing its Mexican heritage with fans across Mexico and the United States, Circus Vazquez will bring its unique, animal-free show to the North Riverside community. Circus Vazquez will hold performances Monday – Friday at 7:30 p.m., Saturday at 5p.m. and 8p.m. and Sunday at 2:00 p.m., 5:00 p.m. and 8:00 p.m. Circus Vazquez performances will be held in the parking lot of North Riverside Park Mall. To purchase tickets to Circus Vazquez at North Riverside Park Mall, visit https://circovazquez.com/. For more information about North Riverside Park Mall, its stores, hours and events, visit www.northriversideparkmall.com.
Cinco de Mayo Cruise
Celebrate Cinco De Mayo on The Summer of George! Voyage the city in style as you cruise down the river enjoying tequila and breathtaking views of the city. The DJ will start with Top40, EDM, and Hip-hop and will play a variety of music with the goal of helping everyone enjoy themselves. Cinco de Mayo Cruise will take place on Sunday, May 2nd from 3p.m, to 7p.m., at 900 S. Wells. For more information, visit www.eventbrite.com.
Moe's Cantina Wrigleyville Cinco de Mayo Party
Includes a private table, 4 drink tix per person and more! Join in on the fun with a live DJ at the BIGGEST Mexican bar in Wrigleyville. The party will take place on Saturday, May 1 at noon to 3p.m., at Moe's Cantina, 3518 N. Clark St. To view event details, visit www.eventbrite.com.