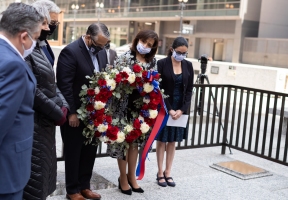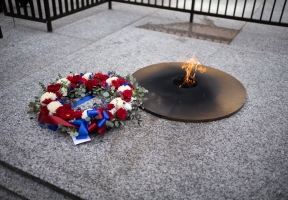 Caption by Ashmar Mandou
Photo Credit: Tony Diaz
Honorable Mayor Lori Lightfoot, Cook County Board President Toni Preckwinkle, Cook County Treasurer Maria Pappas, and Clerk Iris Martinez, among others held a day of remembrance and a moment of silence to honor loved ones who have passed on due to COVID-19 last year on Monday outside of the Daley Plaza. Over the past year, City of Chicago deaths have hit hard in nearly every community, but the most effected have been the Latino neighborhoods; Brighton Park, Pilsen, Hermosa and Belmont Cragin, just to name a few. This was partially due to a lack of inclusion, race and ethnicity data, gaps in data collection, and outdated segregation of socio demographic information, stated Clerk Martinez. The day of Remembrance and National Moment of Silence was intended to inform the community that the City has not forgotten those who have lost their lives to COVID-19.