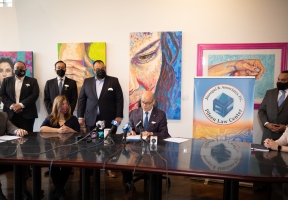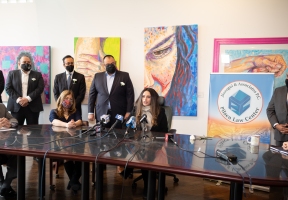 By: Ashmar Mandou
In response to the recent fatal shooting of 13-year old Adam Toledo, leaders from the Hispanic Lawyers Association of Illinois, the Puerto Rican Bar Association of Illinois, the American Bar Association, Pilsen Law Center, and Alderman Michael Rodriguez held a press conference on Tuesday, April 20th to demand a Department of Justice investigation into Adam Toledo's death. In addition, the Latino leaders demanded Mayor Lightfoot accelerate the City's compliance with the existing consent decree requiring long overdue Chicago Police Department reforms and an immediate end to foot pursuits that result in fatalities like Adam's.
Lastly, they urged Latino youth, especially those returning to CPS Little Village classrooms after the video release of Adam's shooting, receive increased support services and safe spaces for the last quarter of the school year and over the summer months. The lawyers demanded Mayor Lightfoot and CEO Dr. Janet Janice target funds from the close to $2 billion dollars received from federal relief to the Little Village community immediately. The community leaders are calling on Justice Department and U.S. Attorney Merrick Garland to conduct an investigation into the circumstances that led to Toledo's death. Specifically, they are calling that the investigation focus on the following areas:

1. Establish clear procedures and policies outlining the circumstances under which police officers can engage in foot chases, with criteria to discipline officers who do not follow the procedures. The training guidelines currently in place, a 5-page, single-spaced training bulletin are confusing at best, so much so that even Mayor Lightfoot has acknowledged that such procedures must be changed.
2. There must be clear procedures and policies governing any interactions between the police and children especially when lethal force is used. No more "Adam Cases." The police video of the shooting in Adam's case shows a terrified 13-year-old boy running from the police, disposing of what appears to be a gun, and then complying with the officer's commands, including stopping, turning around with his empty hands raised, and then getting shot in the chest. Adam obeyed the commands of the officer that was chasing him. Yet, he was shot in the chest and died in the alley in less than a minute after being shot. This is a tragedy that could have and should have been prevented had the police department had clear policies and procedures governing the use of lethal force against our children during foot chases.
3. Establish clear procedures and policies setting forth the circumstances under which police officers can engage in car chases in densely populated neighborhoods. This is especially the case when the offense involves minor traffic infractions, such as the failure to activate a turning signal, broken taillight, displaying hanging items from the rearview mirror, playing loud music, etc. These minor infractions cannot be used as a pretext to engage in highspeed chases through our neighborhoods that endanger everyone in the community