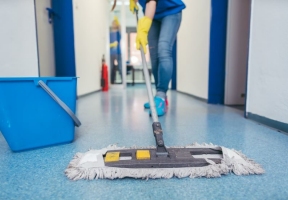 Service Employees International Union (SEIU) Local 1 frontline janitors, who have kept the public clean and safe throughout the COVID-19 pandemic, ratified strong new 3-year contracts that guarantee good annual raises and protect their healthcare despite a difficult year for the commercial real estate industry. As the individuals who clean offices across the Chicagoland area, janitors are key to keeping people healthy and putting our region on the road to economic recovery. Under the three-year agreements, more than 10,000 janitors will have job protections and recall rights, quality healthcare and other benefits, putting nearly $44.7 million into janitors' pockets and communities over the life of the contracts. The new 3-year contracts guarantee:
• Annual raises to help janitors support themselves and their families;
• Job protections and recall rights;
• Healthcare protection with no rise in insurance costs;
• Doubled employer contributions to 401k program for suburban janitors to help them plan and save for retirement. 
As part of their "Always Essential" campaign, janitors fought for a pay increase and protections in the workplace that honors their frontline work and recognizes their essential role in helping our region's economy recover.