South, Westside call on Mayor for Mental Health Funding
By: Ashmar Mandou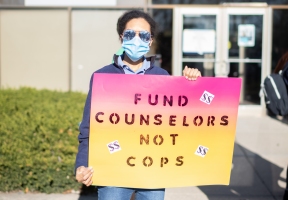 Mental health activists rallied together Monday outside of the Woodlawn Health Center to mark the ninth year anniversary of the closure of Chicago's mental health clinics and to urge Mayor Lori Lightfoot to allocate funding to address the mental health crisis on the Southside.
"In the nine years since clinics were closed Black and Brown communities have been facing a worsening mental health crisis," said Dr. Arturo Carillo, member of Brighton Park Neighborhood Council. "A recent city-wide study conducted by the Collaborative for Community Wellness found that 94 percent of respondents were needing mental health services. The majority of people reported dealing with anxiety and depression. We are now a year into the COVID pandemic that has claimed 5,162 lives in Chicago and the loss of thousands of jobs, and the only response that the Mayor has to these needs is more money for police?"
Alongside the activists were members of The Collaborative for Community Wellness, members of Black Lives Matter, and Alderwoman Rossana Rodriguez who all called on the City to direct part of the American Rescue Plan funding towards non-police mental health crisis programs and the re-opening of mental health clinics.
"This is about equity. The north side has tons of therapists helping to address mental health issues. Meanwhile on the south and west side, every day we see folks in mental health crisis, which often ends up resulting in police getting called instead of getting them the care that they need," said Amika Tendaji, executive director of Black Lives Matter Chicago. "With the Cares Act and American Rescue Plan funding, Mayor Lightfoot has an opportunity to put her money where her mouth is and invest in real equity. We are calling on her to fully fund and expand Treatment Not Trauma: the public non-police mental health crisis response program and re-open closed mental health clinics." 
A small pilot of Treatment Not Trauma, a non-police mental health crisis program, was approved in the most recent City budget. The Collaborative for Community Wellness is calling for: expansion of the crisis response system to be based out of the five CDPH mental health clinics operating independent of the Chicago Police Department; allocation of at least $25 million from the American Rescue Plan as a down payment on fully funding a comprehensive city-wide Treatment Not Trauma program; and reopening public mental health clinics.
Photo Caption: Mental health activists urge City to allocate funding from the American Rescue Plan towards special programming to help those in need of mental healthcare.
Photo Credit: Tony Diaz