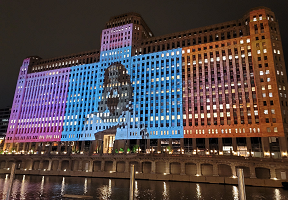 In partnership with Chicago's Department of Cultural Affairs and Special Events, Art on theMART will launch a series of new projections saluting Chicago-based musicians in honor of the City's Year of Chicago Music celebration, Frida Kahlo and the Obamas. Starting this week, all projections will be shown nightly on the façade of theMART at 9:00 and 9:30 p.m. All projections will be shown through Sept. 16. 
Year of Chicago Music 
 The Year of Chicago Music series will include three projections:  
– Footnotes, an animated projection focused on Chicago footwork, produced by artists and filmmakers Wills Glasspiegel and Brandon K. Calhoun, featuring original music by DJ Spinn, the Chicago Bucket Boys, Angel Bat Dawid, Elisha Chandler and Amal Hubert from Hypnotic Brass Band. –
– Woven, created by visual artist Selina Trepp and musician Dan Bitney, collaborating as Spectralina, interlacing music inspired by Chicago's rich musical history with hand-drawn animations of images of woven patterns found in the culturally diverse neighborhoods. 
Frida Kahlo
On the occasion of the Frida Kahlo: Timeless exhibition at the Cleve Carney Museum of Art and the McAninch Arts Center at the College of DuPage, a projection will debut featuring several of Kahlo's most recognizable works including Self Portrait with Small Monkey (1945) and Self Portrait in a Velvet Dress (1926). Accompanied by an orchestral score from Mexican composer Arturo Márquez, recorded by New Philharmonic, the projection commemorates Kahlo's artistic legacy. 
The Obama Portraits 
In conjunction with the Art Institute of Chicago's presentation of The Obama Portraits, Art on theMART presents a dynamically animated projection of the portraits of resident Barack Obama and former First Lady Michelle Obama by Kehinde Wiley and Amy Sherald, respectively. For more information, visit artonthemart.com.