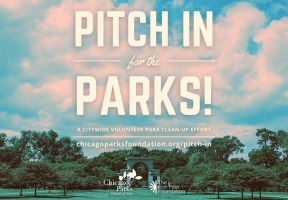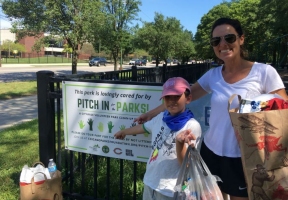 Por: Ashmar Mandou
A principios de este mes, la organización no lucrativa Chicago Parks Foundation (CPF) anunció el segundo"Pitch In for the Parks!" [Ayuda en los Parques] anual, esfuerzo diseñado para ayudar a mantener limpios los 600 parques públicos de la ciudad. El año pasado, la iniciativa atrajo a 2,000 voluntarios para la limpieza de 350 parques este año y la Directora Ejecutiva CPF Willa Iglitzen Lang espera ver crecer ese número. Hablamos con Lang sobre la serenidad que los Parques de Chicago proporcionan a los residentes y a las metas futuras de la Fundación.
Amor por los Parques
Durante la pandemia, cuando nos vimos confinados en nuestras casas, los Parques de Chicago se convirtieron en un papel vital para la salud mental. Uno podía hacer largas caminatas por el frente del lago, cuando estaba abierto; podía disfrutar del sol. Realmente vimos personas comunicándose en una forma responsable y segura. Era algo maravilloso. Siempre es encantador ver gente alrededor de la ciudad disfrutando el parque de su barrio.
Colabore
Antes de la pandemia, nuestra Fundación tuvo numerosos eventos en los Parques de Chicago, como la meditación, clases de cocina, carpintería, por nombrar algunos. Todo se detuvo una vez que el COVID golpeó a Chicago y tuvimos que pensar rápidamente en la forma de apoyar a los residentes de los parques locales. Sabemos que la gente quiere retribuir y no solo en el aspecto financiero. La gente quiere dar su tiempo y apoyo. Como no pudimos mantener a nuestro personal durante la pandemia tuvimos la idea de hacer "Pitch In for the Parks" [Ayuda en los Parques] para que la gente se entusiasmara en conocer a sus vecinos, arremangarse y ayudar a embellecer sus parques. Proporcionamos todos los artículos necesarios para ayudar a limpiar los parques. Todo lo que los voluntarios tuvieron que hacer es presentarse y ayudar. Este año, tenemos 100 grupos únicos ya registrados en la ciudad, listos para hacer su parte.
Voluntarios
Se exhorta a la gente deseosa de hacer una diferencia en su comunidad a que revise nuestra red www.chicagoparksfoundation.org para inscribirse en un grupo local. Esta es una forma maravillosa de ayudar a su comunidad y ayudar a mantener un sentido de paz y salud para otros en la comunidad.
Metas Futuras
Hay tantos programas que ofrece la Fundación en los Parques de Chicago; hay algo para toda persona deseosa de aprender una nueva destreza. Diré que estamos en proceso de hacer un programa que de a los residentes la oportunidad de caminar con un estudiante de medicina para discutir la importancia de mantener su salud y que les responda sus preguntas de salud mientras caminan juntos en grupo. Se llama, "Camine con un Futuro Doc", y estamos trabajando actualmente con Feinberg School of Medicine para que los estudiantes de medicina participen en este programa y esperamos pronto ampliarlo a otras escuelas de medicina. Este es solo uno de los programas que esperamos lanzar pronto.