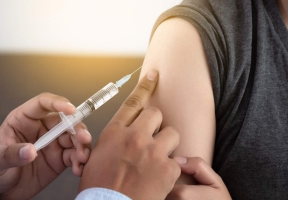 By: Ashmar Mandou
This week, Chicago Public Schools (CPS) and the Chicago Department of Public Health (CDPH) announced a strategy to improve the outreach for eligible students to get vaccinated this summer during the 2021-22 school year. These efforts will expand the district's partnership with CPDH and other approved healthcare partners to vaccinate students and their families by converting three staff vaccination sites, vaccinating eligible students who are enrolled in summer programming, and providing vaccination opportunities at district-run community events, such as Back-to-School Bashes.  "My top priority is helping our schools prepare to provide five days of in-person instruction for students this fall and we are spending our summer working to engage students and families to prepare for the upcoming school year," said interim CPS CEO Dr. José M. Torres. "Schools are trusted pillars of our communities, and as a district we are uniquely suited to help expand vaccination opportunities, which helps create the safest possible learning environments at our schools." 
Currently, all students ages 12 and older are eligible to receive the Pfizer vaccine and students 18 and older are also eligible for the single-dose Johnson & Johnson vaccine. "While more than 50,000 children under the age of 18 have been vaccinated in Chicago, this accomplishment has not been shared equally across all of our neighborhoods," said CDPH Commissioner Allison Arwady, M.D. "That's why our expanded vaccination opportunities through CPS aims to boost vaccination rates among students especially in communities that need additional support the most." 
School-Based Vaccination Sites
At the core of these efforts, the district will convert three of its current school-based vaccination sites—Chicago Vocational Career Academy in Avalon Park; Michele Clark High School in Austin; and Theodore Roosevelt High School in Albany Park—to specifically support CPS students and families. These sites will be open weekly from 9:00 a.m. — 1:00 p.m. throughout the summer, starting the week of July 12. Having standing vaccination sites provides a steady location where parents and families can come at a time that works best for their schedule. Through these vaccination sites, the district can administer up to 600 first doses of vaccine per week. 
Community-Based Sites
In addition to school-based vaccination sites, the district's strategy also deploys mobile vaccination units to serve students and communities that need them the most.  In order to reach vulnerable student populations, the district will be deploying partner providers such as Advocate Aurora, University of Chicago Hospitals, CIMPAR, and Lurie Children's Hospital directly to schools throughout the summer. For more information about the district's current and future efforts to vaccinate its students, staff, and families, please visit cps.edu/vaccinations.